The rally back in equities and the weakening dollar (bail out for Spain) has helped many commodities rally back some this week, but just as important for many commodities is the weather.
Soft commodities such as sugar, cocoa and coffee, are being affected by the weather. Recent ideal growing conditions in west Africa, Brazil, and Vietnam, have been key factors in the collapse in cocoa and coffee prices lately. However, some subtle changes in what we call the Arctic Oscillation and Northern Oscillation Index, could possibly mean that west African cocoa, goes into a slightly drier weather pattern the last half of June. Whether or not this hurts the main cocoa crop at this juncture, is uncertain given the favorable weather of late--but there may also be more and more discussions surrounding pest issues in places like Cameroon.
For coffee, barring a frost scare or any new weather developments in Colombia or Vietnam, prices may still have more downside in the weeks ahead.
The Brazilian sugar crop will need drier weather for the harvest soon and wet conditions could cause some minor concerns. The Indian Monsoon will be the real key for sugar prices, as any sort of repeat 2009 type of drought would send prices soaring.
Wheat on the other hand, has seen an incredible whip-saw in price moves these last three weeks. The earlier drought woes in Ukraine, coupled with a the near-record warm May in the U.S. Plains wheat regions, first created a massive $1.20 short covering rally in wheat futures the 3rd week of May. Since then, very mixed and confusing world weather related news has kept wheat prices mostly under pressure. Most namely, the onset of the U.S. wheat harvest, which is expected to be robust, as hot May weather came too late to hurt most crops. In addition, rains in Ukraine have been more plentiful, but further east in the Volga Valley, rains will be needed the next few weeks to insure decent crops. Historically, wheat prices go lower this time of the year heading into harvest.
Natural gas prices were under pressure again, in part due to the return of much cooler weather to the eastern half of the United States. However, there are some signs that the second two-three weeks of June may be hotter than normal and a change from earlier thinking. Why? One reason has to do with the delay of El Nino. I do not see El Nino forming till the fall at the earliest now, even though most models disagree. Sea surface temperatures in the eastern North Pacific have cooled considerably (-PDO signal) and something we call Global Angular Momentum (AAM) is firmly in the negative camp. AAM has to do with the earth's torque and wobble and when it is in a negative phase, can have some influence on the summer being warmer over some key U.S. grain and natural gas regions, while delaying the onset of El Nino in the Pacific.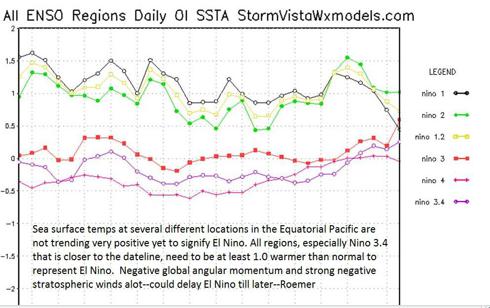 Click to enlarge
Sea Surface temperatures (above) have been slow to rise so far in the Equatorial Pacific and should mean that El Nino does not form until the Fall at the earliest. That could suggest generally favorable world crop weather in the weeks and months ahead.
Source: StormVista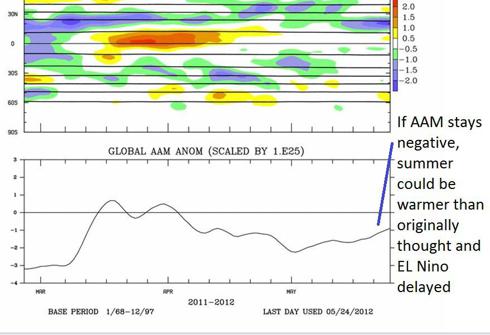 Click to enlarge
Source: Geophysics Lab
Grain Markets and Cotton
While we have painted a mostly bearish attitude in corn since mid-March on too big of a long position, seasonal bearish factors and ideal planting conditions---more than 40% of the corn belt is too dry currently. This caused us to "reverse" out attitude last Friday. In addition, the North China Plain produces some 30%-40% of corn and cotton and is in the midst of a developing drought. The odds are that conditions here will stay drier than normal for a while. However, more than 50% of the crops in this region are irrigated. Nevertheless, if dry conditions persist in China and the Indian Monsoon remains slow to arrive, some markets such as cotton may take notice, after being in the doldrums. I believe this is one reason why cotton prices have potentially bottomed this week.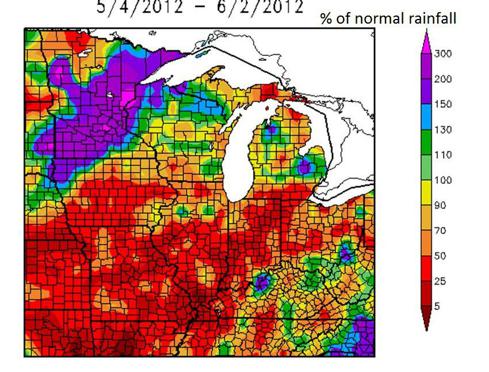 Click to enlarge
Source: High Plains Regional Climate Center
Soil moisture (above) has turned dry (red) over a large part of the corn belt. For the next few weeks, we have a very mixed and slightly confusing weather pattern, with some hot weather, interspersed with rains over some key areas next week. Teleconnections with respect to El Nino/La Nina, sea surface temperatures and a host of others offer different summer solutions. However, one interesting statistic is that the record warm spring, following the near-record warm winter, has been known to produce summers hotter than earlier anticipated. Hence, while I was bearish corn futures the last 2 months, some bullish aspects are now on the horizon, with respect to China and U.S. corn belt dryness. However, the situation is not as simple, nor clear cut as it was the last two summers. Traders will be watching all daily updates for U.S. corn and soybean belt weather. Prices will fall to $4.50 by mid July, if these dry areas above get consistent rains. Otherwise, any little weather problem could result in a modest summer rally. Right now, there are mixed signals, but there is enough dryness around that earlier this week, we began becoming more bullish soybeans.

Indian Monsoon---Key factor for sugar, oilseed and cotton market in the months ahead
It is said that as goes the Indian Monsoon--so goes the India and world economy.
It is well known that forecasting the Indian Monsoon is one of the most difficult feats a meteorologist has. In fact, the Indian Meteorology Center (among others) has had a terrible track record over the years, and their forecasts are often now taken with a grain of salt. For example, many other forecasters inaccurately predicted the incredible 2009 Indian drought, that crippled the Indian economy and resulted in sharply higher prices for such commodities as sugar.
Below, are some of the criteria in forecasting the Indian Monsoon. Most notably the Indian Dipole (difference in sea surface temperatures in the Indian Ocean) and El Nino or La Nina are two of the biggest determinants in forecasting Indian weather.
Forecasting Indian rainfall this summer is tougher than most years because we are in between EL Nino and La Nina. Also, the Indian Dipole is neutral to negative. Usually, the biggest monsoon years occur when the Indian Dipole is positive (see map below) and we have a La Nina year. Hence,some crop issues might arise this summer, since we are tending to go to El Nino (eventually) and the Indian Dipole is slightly negative. If this happens, it might have a more positive influence on both the sugar and cotton market later on, but this is certainly not written in stone,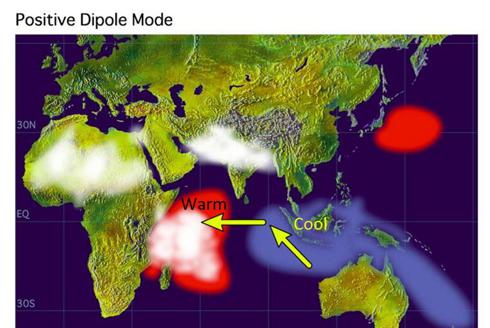 Click to enlarge
The Indian Monsoon is healthiest (map above) during June-August when there are warm ocean temperatures in the SW Indian Ocean ( + Indian Dipole) and cool ocean temperatures to the north of Australia.
Source: Indian Meteorology Center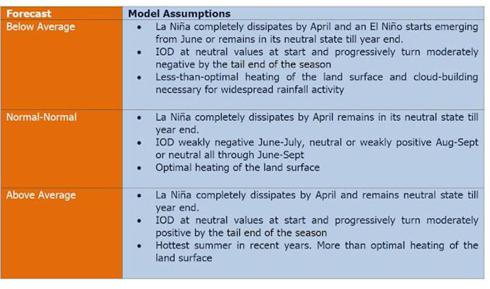 Click to enlarge
What usually influences India's summer rainfall? See the table above.
Source: Indian Meteorology Center
Disclosure: I have no positions in any stocks mentioned, and no plans to initiate any positions within the next 72 hours.