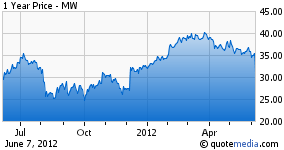 Earnings for The Men's Wearhouse (MW) in the first quarter of 2012 came in lighter than expected on Wednesday as the firm posted $0.53 per share on the bottom line compared to the $0.55 the Street was expecting. Revenues also came in a tad shy of expectations as the Street was looking for $593 million (the company posted sales of $586 million). However, investors are more concerned about the firm's second-quarter earnings guidance between $1.12 and $1.13 per share, as consensus was looking for bottom-line performance north of $1.20 in the period. But with The Men's Wearhouse reiterating its full-year 2012 earnings guidance of $2.70-$2.78 per share, we don't expect a material change to our valuation (click here for our full report).
The firm's gross margin in the quarter increased to 43.4% from 42.5% in the same period last year. The main driver behind the profitability increase was higher average selling prices (known as ASPs). Higher ASP's and positive same-store-sales growth at both the Men's Wearhouse (3.8%) and Moore's Canada (7.1%) represent a very positive sign for the firm. However, K&G Superstore's same-store-sales fell 4%, but K&G is more geared toward low-end consumers than either the Men's Wearhouse or Moore's Canada. We've noted on a number of occasions that low-end retailers continue to struggle, so this isn't much of a surprise, in our view.
Though the shares are under selling pressure, we won't grow interested in them until they fall below the lower bound of our fair value estimate range on improving technicals. This approach remains consistent with our Valuentum Buying Index, our stock-selection methodology. Men's Wearhouse has no debt, as well as over $130 million of cash on the balance sheet, so we don't think this poor quarter should facilitate a complete collapse in the share price.
Disclosure: I have no positions in any stocks mentioned, and no plans to initiate any positions within the next 72 hours.