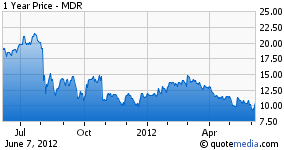 McDermott International (NYSE:MDR) has had a rough nine months. The stock has been cut in half since its highs of last summer. However, after going through a long bottoming process, recent catalysts should power significant price appreciation in the months ahead.
Recent positives on MDR:
Numerous insiders made over $2.5mm in new purchases recently.
After three straight quarterly earnings misses, the company reported a quarter in May that easily beat estimates.
The company just won new two contracts on platforms in the Gulf of Mexico and West Africa.
4 reasons MDR has substantial upside from $10 a share:
The stock is selling at the bottom of its five year valuation range based on P/E, P/B, P/S and P/CF.
The company has approximately $750mm in net cash on its books (over 30% of market capitalization). It is selling for under 9 times forward earnings, a discount to its five year average (14.3).
The nineteen analysts that follow the stock have a median price target of $16 on MDR, substantially above its current price.
The stock has good technical support at these levels (See Chart.).
Disclosure: I am long MDR.