A good rule of thumb for investing is to find a secular trend and invest in leading players in that trend. The trend could be the explosion of the smart phone industry and the universal adoption of smart phones - we're on the backstretch of that trend, probably - or the related change in internet usage from PC-based to mobile and the resulting move in advertising dollars - we're just starting that trend, in the mean time burying the dead horse of the internet-only advertising era. The trend revolving around cutting costs in healthcare is an example; so too the trend of companies providing nets for analysts and investors who are jumping out of roofs this month. Ok, maybe not yet.
One popular trend for investors right now is the shift to healthier, more organic living. There is some irony in the fact that the U.S.-led modern world has taken us far away enough from traditional, healthier lifestyles that it is now a growth industry to make and sell real, non-processed food, but so be it.
While organic food hardly seems like an exciting, sexy sector the way tech or autos can be, the stocks in this sector have garnered headlines for several months, and for several reasons. Annie's, Inc. (NYSE:BNNY), a natural and organic food products company, has had one of the most successful IPOs of the year, not only popping incredibly after raising the price level of its offering twice, but also maintaining and adding to the pop's gains over the last two months amidst a challenging market climate. Jim Cramer, the notorious CNBC host and market pundit, has been featuring organic food companies from this sector all year.
One of the leaders in the sector, both in performance and Cramer's attention span, is Hain Celestial (NASDAQ:HAIN). The Long Island-based company sells food, tea, juices, and personal care products under a variety of brands, including Earth's Best, Terra Chips, Linda McCartney foods, and Celestial Seasonings. Hain is the top stand-alone natural food company as per Nielsen/Spins data (sourced here). Management boasted 15 brands in the U.S. that grew over 10% and another 5-6 brands that grew in high single digits on the most recent conference call, a conference call to mark a record quarter for the company.
The question with Hain and with hot trends in general is not so much whether or not Hain's story is compelling: most would agree it is. The company has had stellar growth metrics, good performance in beating estimates, has made quality acquisitions to boost growth, and looks poised to capitalize on its top positioning in the field. Instead, the question is more about whether the valuation matches the story, and whether interested investors should look for Hain Celestial or should find a cheaper, related stock, or else hope for a stronger pullback.
First, a look at how Hain's metrics compare to some of its peers in the food packaging and natural foods industries:
| | | | | | |
| --- | --- | --- | --- | --- | --- |
| As of Q1 2012 | HAIN | TreeHouse Foods (THS) | Flowers Foods (FLO) | Dean Foods (DF) | United Hatural Foods (UNFI) |
| Market Cap | $2.4B | $2.1B | $3.1B | $2.8B | $2.5B |
| Quarterly Revenue Growth (Y-over-Y) | 31.54% | 6.14% | 12.02% | 5.38% | 15.29% |
| Linked Quarterly Revenue Growth | -1.60% | -2.20% | 37.40% | -2.48% | 7.85% |
| Yearly Revenue Growth | 23.22% | 12.82% | 7.73% | 7.69% | 20.57% |
| EPS Growth (Annual) | 7.64% | 11.25% | -5.30% | -26.87% | 8.60% |
| Estimated Earnings Growth (next 3 years) | 20.62% | 11.31% | 11.25% | 25.10% | 14.53% |
| Earnings 2011 | 1.35 | 2.72 | 0.96 | 0.77 | 1.6 |
| Earnings 2012 (Est.) | 1.8 | 3.08 | 1.03 | 1.17 | 1.91 |
| Earnings 2013 (Est.) | 2.08 | 3.44 | 1.19 | 1.32 | 2.17 |
| Free Cash Flow/Share 2011 | 1.05 | 2.12 | 0.4 | 0.68 | 0.19 |
| 2011 P/E | 39.90 | 21.25 | 24.05 | 19.99 | 32 |
| 2012 P/E | 29.93 | 18.77 | 22.42 | 13.15 | 26.81 |
| 2013 P/E | 25.9 | 16.81 | 19.40 | 11.66 | 23.59 |
| PEG Ratio | 1.94 | 1.88 | 2.14 | 0.8 | 2.20 |
| 2011 P/FCF | 51.30 | 27.27 | 57.73 | 22.63 | 269.47 |
| Price (Tuesday, June 5th close) | 53.87 | 57.81 | 23.09 | 15.39 | 51.2 |
| Dividend (Yield %) | NA | NA | .64 (2.78) | NA | NA |
Hain's growth numbers are the most consistent in this cohort looking backwards and forwards. Revenue growth has been solid, earnings growth has held steady, and estimates suggest Hain's earnings growth is about to accelerate past its peers, excepting Dean Foods, a milk company that has had some bumpy past growth.
But while the underlying trends in Hain's growth direction are solid, the valuation is pretty stark. Past and forward P/E for Hain all track well ahead of its peers, and this is a generally pricey group (as befits a trendy sector). Hain does well converting cash flow, but the free cash flow valuation is also quite high (even if others in the group have high valuations there). While the PEG ratio is in line with its peers, it is still on the high end; 2 is often considered the high barrier on investing in a growth company.
The following chart shows that even on a price/sales ratio, which is sometimes more suited to evaluating growth companies, Hain is very highly valued for its group:
Click to enlarge.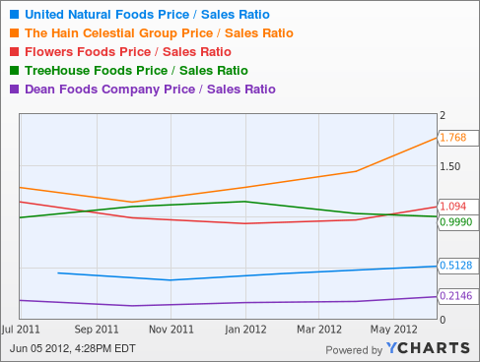 UNFI Price / Sales Ratio data by YCharts
No doubt value investors have stopped reading this article by now (if they started at all). What's left to hold onto for growth investors who might want to play this sector and invest in its leader?
Well, there's the old trick of finding an even higher valued company to compare Hain too, which brings us back to Annie's. While I didn't look up Annie's past earnings and revenues, based on initial analyst forecasts, the new company is very richly valued indeed: Annie's has a 56.14 forward P/E ratio for 2012, dropping to 47.61 and 39.18 for the next two years. The company's growth rate is 19.71%, which is lower than Hain's, and Annie's trades at a higher growth premium, with a PEG of 2.85. The market values these sorts of companies highly, which means that if Hain's can continue to deliver, the price may continue to soar.
Other positives for Hain include its sound balance sheet. With a debt to equity ratio of .27, and a quick ratio of 1.17 (and no short-term debt, for that matter), the company faces very little overhang in the near-term. Also a positive for those who have held Hain's, but also those who believe the company could grow into a giant in this industry, is the fact that the stock has done extremely well. Yes, that's led to high valuations, but the habit of the market rewarding the company's performance has been established, which is a good sign.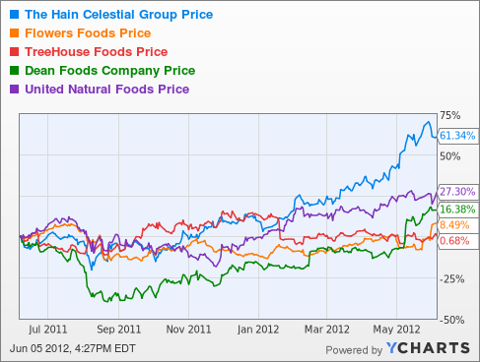 Does that make Hain's a healthy investment or an overly rich one? I'm staying away from the company because I have the growth slots in my two portfolios filled at the moment, and because those valuation numbers and the fact that the stock is near its 52-week high concern me from a timing perspective. For momentum investors or those who believe that the healthy eating trend is indeed in its early stages, and that Hain is the best way to play it, I would recommend waiting for the current pullback to pull a little bit farther: The company has dropped 6% off its 52-week high in the past seven days (as of Tuesday, June 5th's close) and with the current downturn in the market and its growth status, could drop to its pre-earnings levels of about a month ago, between 45-48. At say 45, the PEG would be 1.62, a more reasonable premium to pay for Hain's growth. The other pick in this group of stocks, based on these numbers, would be Dean Foods (incidentally, another Cramer pick).
Investing in strong secular trends is a good way to insulate a portfolio from cyclical and market-based shocks and to gain exposure to growth in new sectors. Unless one gets in on the ground-level of a trend, however, the price to get into a leading stock can be quite high. With Hain Celestial, the investor has to decide two things: is this indeed the beginning of the trend or are we already past the peak, and if the trend has room to run, is Hain a good vehicle to ride it?
Pricey as it may be, the answer to both of those questions may well be yes.
Disclosure: I have no positions in any stocks mentioned, and no plans to initiate any positions within the next 72 hours.