Readers should note that the author of this story, Jordan Darrow, is a consultant with investor relations boutique Darrow Associates, Inc. Globecomm is a client of Darrow Associates and the firm receives compensation in the form of a monthly retainer for representation.
About a year ago I wrote on Globecomm Systems Inc. (NASDAQ: GCOM), a leading global provider of communications solutions and services, and extolled the virtues of an investment in the company. Some time thereafter, the stock rose to over $16 per share, the highest level of trading since 2000. This update may shed some light on certain market forces behind the pullback in share price and recent developments that position Globecomm for a multiple expansion given the acceleration of its high value machine-to-machine ("M2M") services.
Globecomm shares have retreated from the ten-year high they hit last year. The stock closed at $10.40 on June 4, 2012. GCOM shares declined by nearly 25% in the month of May alone. According to analyst James McIlree, CFA, of Dominick & Dominick, LLC, who writes research on the satellite and defense communications sectors but not on Globecomm, "There were few places to hide in May as the S&P 500 dropped 6.3%, the NASDAQ Composite fell 7.2%, our defense-related stocks 9%, and our satellite services group 5.8%." While Globecomm was among the many companies with a declining share price, it appears that GCOM trading may be more volatile, which is a condition typically seen with higher growth companies. The recent sell-off in GCOM shares may trigger an entry point for some investors.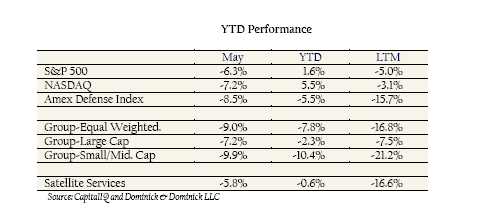 On track for its eighth straight year of profitability, last month Globecomm reported results for the nine months ended March 31, 2012, with consolidated revenue increasing 49.0% to a record $277.1 million as compared to $185.9 million in the same period in the prior year. Service revenue for the current nine month period increased 25.5% to a record $170.8 million (or about 62% of total revenue) as compared to $136.2 million in the same period last year. The balance of the company's revenue growth was from the infrastructure division, which was primarily driven by the achievement of revenue milestones under a major government contract which carries lower than traditional infrastructure margins - both of which are well below the margins for the services business.
Service revenue gross margins during the nine months ended March 31, 2012, was 31.5% as compared with 11.0% for infrastructure revenue (although the normal margins in the infrastructure division have tended to be in the low- to mid teens). With the surge in service revenue, investors may have misperceptions of the company. For years, Globecomm was known as a reseller of satellite and other communications infrastructure equipment; sales were low margin and one-time in nature. Now, an increasing majority of revenue is derived from higher margin recurring revenues for managed services.
Globecomm's exposure to the government sector may be another reason for investor uneasiness. According to a June 4 report from Dominick & Dominick's McIlree, "The elections in November are unlikely to change sharply the trajectory in the DoD budget. We think budget pressures will intensify."
Yet the sell-off in GCOM shares hardly recognizes the value of the company's high growth, recurring managed communications revenue (which also has government agencies and military departments as customers). McIlree, continued, "Another area for growth, we believe, is industrial production, particularly energy, energy technology and M2M. Acorn (NASDAQ: ACFN) suffered an almost 30% decline in May, but is still more than double its price from a year ago. Iridium (NASDAQ: IRDM) and ORBCOMM (NASDAQ: ORBC) are both well positioned in the M2M markets, and Verizon's recent offer for Hughes Telematics at 5x sales demonstrates the value in the stocks."
Over the past few years Globecomm has built a significant managed network services business, including a growing user base in the subsector of M2M services. In January 2012, Globecomm announced that it had been selected by Ericsson (NASDAQ: ERIC) as a subcontractor of the maritime GSM/VSAT managed operation for an Ericsson mobile communication network. The network will be implemented on up to 400 container vessels worldwide, providing end-to-end 24/7 automated monitoring and real-time information control. Globecomm also will provide operation services under a seven-year subcontract to Ericsson Denmark. As a comprehensive global managed network services provider, the work with Ericsson relies on Globecomm's M2M platform encompassing hosted wireless services.
In March 2012, Globecomm announced that it had been selected to provide managed services utilizing the company's Tempo Enterprise Media Platform. The contract was awarded by Rollins Corporation (NYSE: ROL) and has a term of four years with services covering 500 global locations. The Tempo Enterprise Media Platform provides enterprises with the ability to deliver interactive live and on-demand streaming media to desktops, televisions, and mobile devices. The platform works across hybrid delivery networks including Internet CDN, private terrestrial, and satellite.
With the transition into a fast growing managed services and M2M provider, investors need to determine how to value Globecomm. A recent benchmark may be the Verizon deal to acquire Hughes Telematics, a provider of voice/data telematics services and vehicle monitoring, at 5X forward sales. With the announcement of third quarter financial results, Globecomm management issued guidance for its service segment revenue to be between $220 and $225 million for the full year. At a multiple of 5X this year's service segment revenue, Globecomm has an implied valued for its service revenue alone of over $1 billion - or $43.00 per share. This compares with a market capitalization today of $240 million - or $10.40 per share - for the entire company. Don't forget, Globecomm has a long track record of profitability, an infrastructure segment with revenues expected to exceed $150 million for fiscal 2012, and a net cash position of over $47 million at March 31, 2012. With its demonstrated ability for top line growth in the high value M2M/managed services sector and consistent profitability, investors may want to take advantage of misperceptions in the market by scooping up GCOM shares before a multiple expansion occurs.
Disclosure: I have no positions in any stocks mentioned, and no plans to initiate any positions within the next 72 hours.