Shares of yogawear retailer lululemon Athletica (NASDAQ:LULU) are down sharply on Thursday following a weaker-than-expected earnings report.
(click charts to enlarge)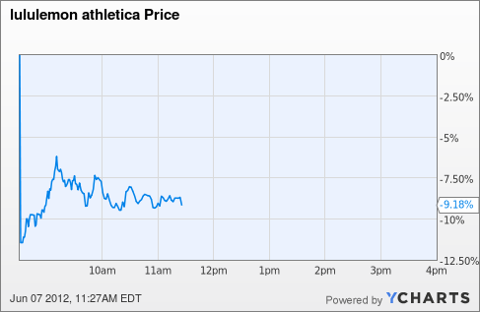 Click to enlarge
LULU data by YCharts
However, as shown below, LULU is still up a staggering 808% over the past five years.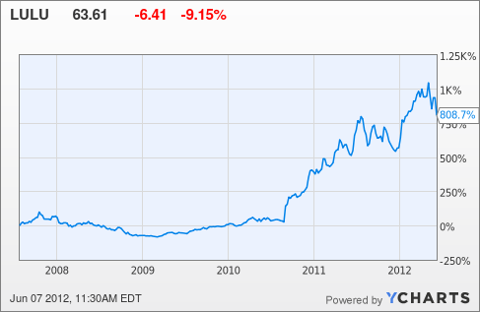 Click to enlarge
Earnings Report
First-quarter net income rose to $46.6 million or 32 cents a share, up from $33.4 million, or 23 cents a year earlier. Revenue jumped 53 percent to $285.7 million. Analysts, on average, had expected earnings of 30 cents a share. The more disappointing part of the report was the build in inventory. LULU said inventory rose to $107.7 million from $64.4 million a year ago. LULU's forecast also disappointed as the company said it expects to earn 28-30 cents per share in the second quarter compared with analysts' estimates of 33 cents per share.
Short Interest
Despite the company's amazing history as a public company, many investors are still betting against LULU. Short interest currently stands at 10.9 million shares or 10.92% of the float. If the company reports strong numbers in future quarters, the potential for a major short squeeze exists.
Valuation
One of the reasons investors have been betting against LULU is the high valuation. Currently, LULU trades at 50 times past earnings and 30 times forward earnings. While these numbers are high, when considering LULU's impressive year-over-year quarterly earnings growth rate of 34%, the valuation is not so extreme. While the growth rate may slow, LULU must continue to grow quickly if the stock is to remain at these levels.
My Take
With LULU shares now down over 20% from their all-time high of $81.09 reached in early May, I believe investors should consider using Thursday's sell-off to buy LULU. I do not believe Thursday's earnings report signals an end to the LULU growth story. Ultimately, I believe LULU will not reach its highs until the shorts are forced to cover.
Disclosure: I have no positions in any stocks mentioned, and no plans to initiate any positions within the next 72 hours.