The commodity sector is slipping lower, with natural resource focused exchange traded funds taking a downslide. The reason the PowerShares DB Commodity Index ETF (NYSEARCA:DBC) is sliding can be due to the large exposure to oil.
The DBC ETF has lost about 17% over the past three months. For the same time frame, crude oil, copper, corn and aluminum have lost about 10%. DBC tracks about 14 different commodities and it is the most heavily traded fund in this class. The ETF has around 50% of the portfolio dedicated to oil or oil-related products, so the fluctuations in this segment of the market has great impact on the fund, reports Ben Levisohn for The WSJ.
Investors in a commodity ETF such as DBC will have the outlook that the future demand for commodities is positive. As emerging economies continue to develop and populations get larger, the strain on natural resources will be compounded, reports Abraham Bailin for Morningstar.
The biggest threat to natural resource demand is the slowdown of growth in China. The nation is a chief demand-side driver of virtually all commodities, reports Bailin. The nation sustains double digit GDP growth and has seen a huge infrastructure boom. Should the pace slow and the Chinese commodity bubble burst, the oil and natural resource sector will follow suit.
Meanwhile, weak economic data coming from the U.S. does not help the outlook for oil. Oil prices are projected to weaken over the second half of the year as international political tensions are high and the global economy slows, said Peter Voser, CEO of Royal Dutch Shell, on CNBC.
Commodities don't have expected returns that are based on fundamentals like stocks and bonds do. The price rests completely on supply and demand, reports Levisohn.
"Global demand is softening, we have got recessionary elements in Europe, a small slowdown in Asia Pacific," Voser told Reuters in an interview on the sidelines of the World Gas Conference in Malaysia's capital.
PowerShares DB Commodity Index ETF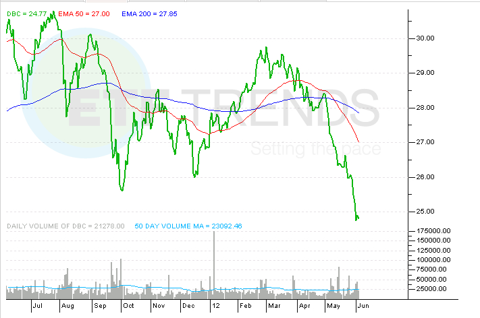 Click to enlarge
Tisha Guerrero contributed to this article.
Disclosure: I have no positions in any stocks mentioned, and no plans to initiate any positions within the next 72 hours.