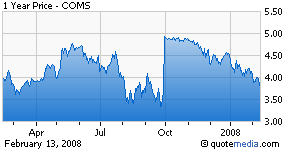 3Com (COMS) shares are sharply higher Wednesday morning after reports that Bain Capital has offered concessions to the U.S. government that will allow it to proceed with its buyout of the company, with China-based telecom equipment company Huawei to take a minority stake. According to Reuters, the agreement may require 3Com to divest Tipping Point, a unit which sells software used for national security purposes.
The original deal, announced in September, called for a Bain-lead buyout at $5.30 a share; but it has since been slowed by national security concerns, with opponents focused on the fact that Huawei is expected to take a 16.5% minority stake in the deal.
According to Reuters, Bain declined to comment on the specific discussions with the Committee on Foreign Investment in the United States. But Bain did say in a statement that it has "put on the table robust mitigation proposals that offer significant structural and security safeguards to American national security interests."
In pre-market trading, 3Com shares are up 26 cents, or 6.8%, at $4.07.