Best Buy's (NYSE:BBY) founder Richard Schulze resigned from his chairman role after allegations of CEO Brian Dunn's relationship with an employee were uncovered. Schulze knew about the relationship, but failed to mention it to his board. It was decided that it would be best for him to retire from the company.
With Schulze leaving the company, it brings together a question. What is Schulze's plan for his 20.1% stake in the company?
This morning Schulze said he is exploring his options for what to do with his shares. More than likely the only option is that he can sell his stake in the company. With Schulze out as chairman he no longer has any need for shares.
At a 20.1% stake in the company, Schulze has around 68.8 million shares. Best Buy's average daily volume is 8.6 million shares. If Schulze were to dump his shares, it would take more than eight days for the market to absorb them all. Keep in mind this does not include share sells from anyone else.
More than likely Schulze will not sell his entire stake at once, but in increments. This is an issue for a stock that continues to fall. Schulze's share sells would keep the stock price depressed and probably even take it down further.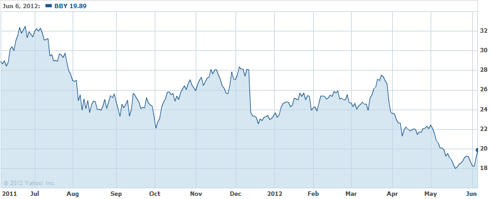 Click to enlarge
This is a sticky situation and this stake sale would be a major negative for shareholders. It might even be a good idea for investors to take a short position in the company. For those of you who are investing based the company's prospects, I recommend buying some puts. This will hedge your downside for the short-term and could allow you to profit from this stake sale.
Disclosure: I have no positions in any stocks mentioned, and no plans to initiate any positions within the next 72 hours.