Dangdang (NYSE:DANG) recently announced its 1Q12 results in which media revenue increased 35% year/year, general merchandise revenue increased 124% y/y and third-party merchant revenue increased 108% y/y.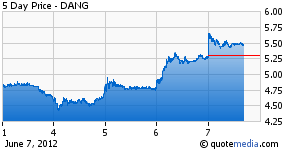 Two positive aspects behind the earnings release were margin improvement and the ramp up of the Dangdang market place.
Margin Improvement
A positive surprise to the earnings release was the gross margin figure, which increased to 14.2% from 10.5% quarter/quarter. The increase was the first over the past five quarters after gross margin has been trending downward due to a mix of competition and promotions.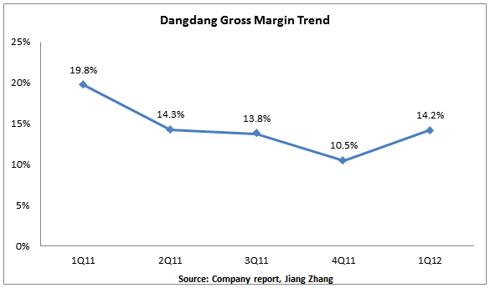 Click to enlarge
Aside from margin improvement, Dangdang also achieve operational efficiency, namely marketing expense as a percentage of revenue declined to 2.7% from 3.4% on a y/y basis.
Dangdang Market Place
Dangdang's market place strategy has been ramping up nicely as third-party merchant revenue increased 108% y/y during the quarter. Management provided some color on how Dangdang differentiates itself from its bigger rivals, such as Tencent, Taobao and 360Buy.
According to management, the market place model Dangdang utilizes is to provide fulfillment capacity to the merchants and use cash on delivery, compared with Tencent, which manages all its market place companies by leasing its online space and traffic to the merchants. The key differentiator of Dangdang's market place model is its network of over 100 couriers providing next-day delivery to 140 cities. As I mentioned in my previous notes, e-commerce giants are battling against one another over customer service and delivery quality. Dangdang hopes to standardize its service quality across self-merchandise program and the merchant program providing superior customer experience.
On a final note, Dangdang continues to search for a new CFO to replace its current CFO Conor Yang, who is leaving for personal reasons. According to Chairwoman Peggy Yu, Mr. Yang's last day is early July and she is part of the interviewing team for the CFO candidates. Ms. Yu has asked both analysts and investors to refer her any good candidates for the CFO role. Meanwhile, we should keep our fingers crossed that Dangdang will soon find someone who can count the revenue for the company, and for the investors.
Disclosure: I have no positions in any stocks mentioned, and no plans to initiate any positions within the next 72 hours.