Vonage (NYSE:VG) Wednesday morning reported fourth quarter revenue of $216 million, with a pro forma loss of 6 cents a share. The Street had expected $219.4 million, and a loss of 10 cents.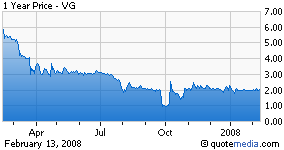 The voicer over IP service provider said average monthly revenue per line was $28.19, down from $28.24 in the previous quarter. Marketing costs per gross subscriber line addition rose to $223, from $206 in the third quarter. The company expects the figure to be $225-$250 in 2008.
Churn remained flat sequentially at 3% per month. The company added 56,000 net subscriber lines in the quarter to finish at close to 2.6 million.
Vonage also noted that it has $253 million in convertible debt which can be put back onto the company in December 2008. The company said its financial advisors are in discussions with several parties on refinancing the debt. Vonage says it believes the situation will be resolved, but that there can be no assurances. If there is no resolution of the issue by the time the company files its 10K for 2007, Vonage said, it will likely receive a "going concern" letter from its auditor.
Meanwhile, the company also said it is restating second and third quarter results to correct its reported non-cash compensation expense; the company said it now believes there was "a material weakness in the design of its internal control procedures relating to recording its stock-based compensation expense."
Vonage Wednesday is up 10 cents at $2.13.