By John J. Critchley, Jr.
Netflix (NASDAQ:NFLX), the once high flying darling of the fast money crowd is once again in the news. After catastrophic upper management business decisions last year that led to a stunning 80% fall from its high, there appears to be signs of life in the Netflix corpse.
On Wednesday, Netflix reported that it is planning on assembling its own content delivery network. The ripple effect of this announcement was felt by two of the stalwarts in the video content delivery area, Akamai Technologies (NASDAQ:AKAM) and Limelight Networks (NASDAQ:LLNW). AKAM shares tumbled 6% and LLNW slid over 12% (here).
This is the latest attempt by Netflix in its never ending quest to take away the content delivery mechanism from its existing partners and bring the capability back home. Many in the investment community are skeptical that NFLX will ultimately be successful in this endeavor, but nevertheless applaud the efforts by management to tackle one of the biggest stumbling blocks for future growth.
There are also signs that NFLX is improving its content library and the continued aggressive expansion to international markets is encouraging to NFLX bulls. The improvement of the content does not, however come without a heavy cost. The bears will argue that increasing costs due to higher licensing and renewal fees and escalating capital expenditures caused by the international expansion will severely impact future earnings.
To add to the bearish sentiment, the company faces stiff competition in the United States in the streaming movie area from very deep pocketed interlopers including Google (NASDAQ:GOOG), Amazon (NASDAQ:AMZN) and Apple (NASDAQ:AAPL). Additionally, Netflix s DVD rental business faces stiff headwinds due to a robust challenge from Red Box, the kiosk company operated by Coinstar (NASDAQ:CSTR).
Are you a believer that the continuing tussle by bulls and bears for supremacy in the NFLX debate may cause unexpected volatility in the underlying? If so, here is an option strategy that can be employed to take advantage of any underlying volatility caused by these divergent views.
Trade idea -An Options Play
From a pure options trading standpoint, the real question is what are the chances that the stock stays around $65? Even with great uncertainty and fear in the marketplace, the implied volatility of the whole options universe is not very far from its 52 week lows. The VIX (CBOE Volatility Index) is currently at 21.13%, not expensive considering the current macro geopolitical and global morass.
From a micro volatility view of NFLX, the 60 day implied volatility in NFLX is trading around 63.38%, significantly lower than the 52 week implied volatility hit of 112.16% reached in January of this year. Is the movie streaming and DVD rental model broken and the stock has further to fall? Or does the depreciation in share price to near a 52 week low make the underlying a tempting purchase for value investors and bargain hunters?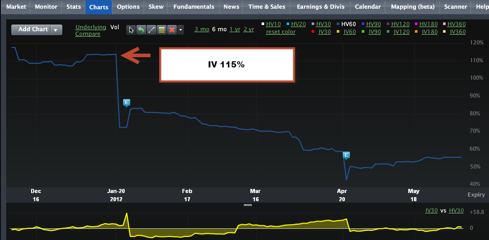 Source: Livevol(NYSE:R) Pro (here)
If you believe there is further volatility coming in the marketplace as a whole and NFLX in particular over the next few months, the buying of options at this level may be a reasonable option play.
Let's take advantage of these uncertainties to either initiate a brand new long implied volatility position in NFLX.
To let our implied volatility view play itself out and find the most reasonable implied volatility option plays, let's go out to the July'12 options, which present some compelling medium term value.
The play:
a) Buy July '12 65 strike straddle for $10.60. Paying about 61.3% in Implied Volatility.
Net debit: $10.60
Breakeven point: $75.60 or $52.53 in the next 2 months.
Maximum Risk: The stock stays range bound and the decay in option premium causes loss of entire outlay.
Why July? Normally, one would buy the nearer month options if they wanted to make a bet on the underlying to be volatile. However, with June'12 regular options expiring next week, we are taking a slightly longer term horizon to give our views time to play out. Secondly, the implied volatility of the July'12 65 options are significantly lower than the Sep '12 65 options. The Sep '12 65 straddle is currently trading at $19.20 or 68.33% implied volatility. The July straddle is trading at an implied volatility that is nearly 7% cheaper than September. This would appear to be an attractive differential for many option traders. Let's take advantage of this calendar differential and buy the July straddle instead of September.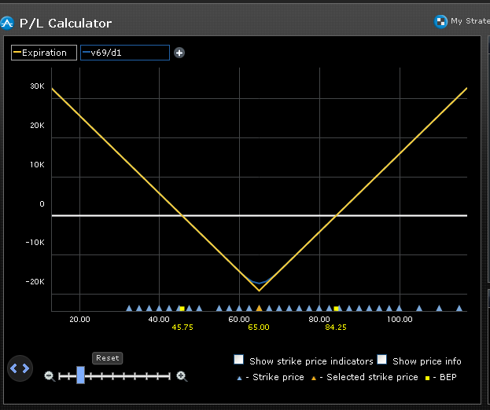 Source: sogotrade.com
Stay tuned.
Notes: Prices quoted where the prices at time of submission and do not reflect current market prices. You are solely responsible for your own trading and investments decisions and the ideas presented in this article are trade analysis, not recommendations.
Disclaimer: We are not liable for any trading decisions made by any reader. No advice is given or implied. The information offered in this article is for demonstration purposes only and should not to be either construed as an offer or considered to be a recommendation to buy or sell any options.
Your use of this information is entirely at your own risk. It is your sole responsibility to evaluate the accuracy, completeness and usefulness of the information. You must assess the risk of any trade with a professional broker, or financial planner, and make your own independent decisions regarding any trades mentioned herein. This is not a solicitation to buy or sell any options, or to purchase or sell any credit spreads. Trading options only carries a high degree of risk, is not suitable for all traders/investors, and you may lose all of your premium money invested in the options. If you have never traded options before, we strongly recommend that you read a little background information made available by the government. Only you can determine what level of risk is appropriate for you. Also, prior to buying or selling an option, a person must receive a copy of Characteristics and Risks of Standardized Options.
Past performances DO NOT guarantee future results. Please consult with your own independent tax, business and financial advisors with respect to any trade. We will NOT be responsible for the consequences of anyone acting on this purely demonstration material.
Disclosure: I have no positions in any stocks mentioned, and no plans to initiate any positions within the next 72 hours.