SA followers are writing to me and asking that I continue to publish my charting, particularly of Zalicus (ZLCS). I hope this is helpful because large block trading suggests Zalicus is gaining significant traction and its current under-valuation has bulls racing to buy as one of those rare opportunities to make double to triple digits gains.
Today's Trading
Today's Zalicus broke out in a new range. Lower resistance was broken. There was no head-fake in the early market and the upward trend chased the bears.
Click to enlarge.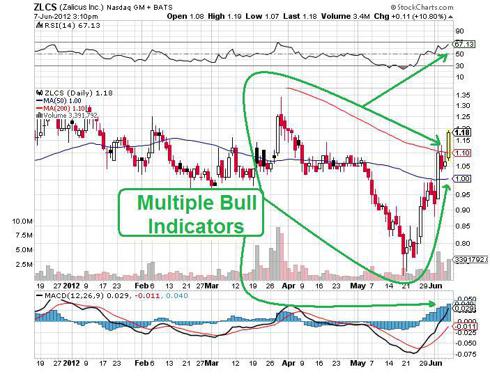 Today established new break-out signals:
Stock price broke through and finished well-above the 200MA.
The 50MA turned north signaling it will cross the 200MA within weeks.
After 2 days from the last spike, the bulls returned in high volume (4M plus) and the share price finished up ($1.17).
The MACD and RSI charts indicate that there is still a lot of room to run.
Friday: What's Next?
The up-trend has not broken down, but has gained greater strength. This is confirmed by the volume. I'm expecting to see even heavier volume in the days to come.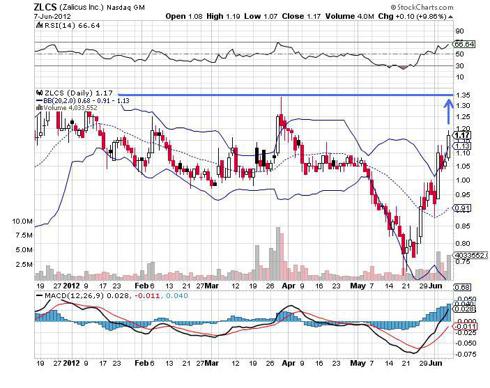 The next resistance point is $1.35/share, but don't be surprised if Zalicus blows right through it. The stock is coming out of year-long bear-trend (wow!) and the spring-back is about as sharp as it gets.
The Fun Part
The fun part is thinking, What if Zalicus issues a press release on one of its near-term catalysts? If that happens, the upward momentum could turn into 10-15M shares traded before day-end and a significantly higher share price. Before June is over, I expect this to happen because Z944 is wrapping up its single dosing studies and/or Sanofi (NYSE:SNY) may announce Prednisporin's phase 3 launch and/or we may get more news from Novartis (NYSE:NVS) and/or Covidien (COV) may announce the entry of 32 mg version of Exalgo into the market.
Biotech investing is always risky, but the rewards are equally attractive. I wouldn't be surprised if coverage on Zalicus begins to pick up over the coming weekend.
Disclosure: I am long ZLCS. I declare that I may day-trade Zalicus at any time. For me, "long" is until I sell. I do not short stocks.
Disclaimer: Investors buy and/or sell at their own risk.