Market Recap: The market followed through on its upside today for the beginning of the day, but it struggled to keep the trend going in the late hours. The market rallied early on the back of a Chinese rate cut that was unexpected and helped goose Asian markets. Further, comments last night from Vice Chairman of the Fed Janet Yellen commented that the Fed was open to more QE. Bernanke, in testimony from Congress, commented that the Fed is ready to do more QE, but he did not state that it would be enacting anything at this time. Keeping the idea open is enough to keep the markets afloat, but it at the same time is not enough to make them rally strongly.
With the weak close and tomorrow's lighter day, stocks could be in for a little bit of a correction. We are not expecting much from the markets in the way of upside unless we get a surprising number from Trade Balance or some hopeful news from Europe. No one seems to want to agree to any more "free money," but they know the consequences of completely denying it at this time. We remain neutral on market.

Two Trades
Two trades that we are looking at right now that we like are going long on Edwards Lifesciences (NYSE:EW) as well as a bull put spread on Dow Chemical (NYSE:DOW). EW got recent downgrades from Deutsche Bank (NYSE:DB) as well as Goldman Sachs (NYSE:GS). GS removed it from Conviction Buy and DB put it on short-term Sell list. Yet, the stock has continued to remain strong, holding onto its 20-day MA and pressing an upward channel. We like the stock to remain strong here into FDA approvals on June 16th. For Dow Chemical, we like this stock as an earnings play into July 21 expiration. We like opening a bull put spread on the 28/27 strikes. We have found that in this period from early June to July 21, the stock is very strong with only one movement in 10 years of more than 10% to the downside.
Trade #1: EW, Long
Trade #2: DOW, 28/27 Bull Put Spread, Jul21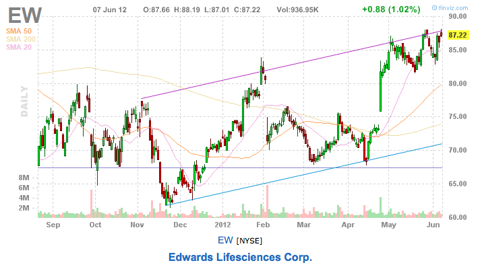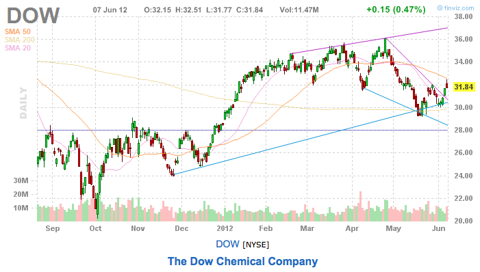 Tomorrow's Outlook
Trade balance will be pretty important tomorrow especially after a weaker GDP report last time out. The report is probably the biggest event for our markets, and the weak close to the markets today means we will probably see a more likely move to the downside. We get German Trade Balance, British Inflation Report from Bank of England, and British Producer Price Index tomorrow from Europe that will be crucial. A nice day from Europe would continue to help our markets, as the dollar still remains higher. Our gut says we should expect weakness tomorrow, but with little news on the docket, we could see a very mixed day.
Our Moves
It was a very nice day in the stock market for us. We got out of several positions. We got out of an Apple (NASDAQ:AAPL) bear call spread from our Options Portfolio for an 11% gain. We got out of an AutoZone (NYSE:AZO) bull put spread from our Earnings Alpha portfolio for a 7.5%, and we took a 15.5% gain on a Disney (NYSE:DIS) bull put spread from our Options Portfolio. We got a 3% gain on BlackRock (NYSE:BLK) from our Goldman Sachs portfolio. Finally, we took a loss on our TripAdvisor (NASDAQ:TRIP) long and Dow Jones (NYSEARCA:DIA) short. We added a long in EW, reverse iron condor in AAPL in an Options Portfolio, and we added a pair trade long Bed, Bath and Beyond (NASDAQ:BBBY), short CarMax (NYSE:KMX) in Earnings Alpha Portfolio.
We have the following positions. In our Short-Term Equity Portfolio we are long EW, Under Armour (NYSE:UA), Sanderson Farms (NASDAQ:SAFM), Bed Bath & Beyond. We are short Illinois Tool Works (NYSE:ITW), Tyson Foods (NYSE:TSN), Molson Coors (NYSE:TAP). In our Options Portfolio, we are long AutoZone, Comcast (NASDAQ:CMCSA), Monster Beverage (NASDAQ:MNST) and Panera Bread (NASDAQ:PNRA). We are short Priceline.com (NASDAQ:PCLN), Sina (NASDAQ:SINA) and General Dynamics (NYSE:GD). We have a reverse iron condor on Ultra Proshares Financial (NYSEARCA:FAS) and AAPL. In our Earnings Alpha portfolio, we are long BBBY, Dow Chemical, Discover (NYSE:DFS), Western Digital (NYSE:WDC) and Dollar General (NYSE:DG). We are short KMX, Adobe (NASDAQ:ADBE) and Walgreen (WAG). We have a reverse iron condor in Verifone (NYSE:PAY) and reverse iron butterfly in Joy Global (NYSE:JOY) and Decker's Outdoor (NASDAQ:DECK).
Chart courtesy of finviz.com.
Disclosure: I am long DG.