Facebook (NASDAQ:FB) has fallen far. Already beset by privacy concerns, now Facebook has cost a lot of people, a lot of money. So, it is understandable that it has become quite fashionable to hate, even loathe, Facebook more than ever.
With this context of distaste as a backdrop, Reuters published the results of a Reuters/Ipsos poll of Facebook users (see "Facebook comments, ads don't sway most users: poll"). The reporting of these results looks specifically constructed to tap into Facebook angst. The tagline reads as follows:
"Four out of five Facebook Inc users have never bought a product or service as a result of advertising or comments on the social network site, a Reuters/Ipsos poll shows, the latest sign that much more needs to be done to turn its 900 million customer base into advertising dollars."
Nowhere in the article does Reuters indicate whether such a rate is high or low relative to other publishers or websites that sell advertising or promote social networking as a venue for marketing and advertising. Some opinions are quoted, but no data. Reuters does reference an eMarketer study that "…suggested Facebook fared worse than email or direct-mail marketing in terms of influencing consumers' decisions" (yes, "suggested" not "concluded" or even "discovered"). For added emphasis, Reuters points out that General Motors (NYSE:GM) stopped advertising on Facebook. Nevermind the automaker, noted as America's third largest advertiser, also decided to stop advertising during the Superbowl. Nevermind that Ford soon responded that its Facebook advertising is "effective when combined when strategically combined with engaging content and innovation."
The worst part about the reporting the poll results is that the statistics are scattered throughout the article. Each negative point comes with supporting commentary and almost every positive statistic hangs empty like an irrelevant factoid. Here is a compilation of the statistics culled from the article in the order in which they appear:
Four out of five Facebook Inc users have never bought a product or service as a result of advertising or comments on the social network site.
34 percent of Facebook users surveyed were spending less time on the website than six months ago, whereas only 20 percent were spending more.
44 percent of respondents said the market debut, seen by investors as troubled, has made them less favorable toward Facebook.
About two out of five people…said they used Facebook every day.
Nearly half of the Facebook users polled spent about the same amount of time on the social network as six months ago.
The most frequent Facebook users are aged 18 to 34…with 60 percent of that group being daily users.
Among people aged 55 years and above, 29 percent said they were daily users.
Of the 34 percent spending less time on the social network, their chief reason was that the site was "boring," "not relevant" or "not useful". Privacy concerns ranked third.
I think that there are a LOT of websites out there that would love to have these kinds of usage statistics. Even with the negative slant of this article, I was quite surprised that Reuters did not report the overall impact of the audience data. For example, are overall minutes declining or are growth rates in decline? Are the heaviest and most avid users of Facebook consuming an ever larger share of minutes or are even some of them spending less time? The list can go on and on… Finally, note that 21% of the 1032 respondents indicated they do not even own a Facebook account. We are not provided with any account for how the responses from these people may have impacted the final tally.
I am making these criticisms to highlight how the current discussion and debate may now be overly captured by a presumption of guilt: disastrous execution of the IPO equates to a bankrupt business model. For example, I found this poll through an article that helped me crystallize my opinion on the negative coverage of Facebook. The article, titled "Bored Facebook Users: Numbers Suggest Site Is Falling Off," took ONE data point from the Reuters poll and turned it into an entire article. This piece used the data to support some standard complaints and criticisms that have been levied against Facebook since before it had at least 899 million fewer users.
Facebook's stock is indeed troubled right now. I am not overlooking the negatives to insist that all is roses and wine. I am not even trying to justify my now admitted embarrassment for being counted as one of many chagrined FB shareholders (I will have more to say about my ill-fated Zynga-Facebook analysis in another post!). However, as a confessed contrarian, I cannot shake the feeling (suspicion?) that the heavyweight piledriving into Facebook's image and ethos has become a handy tool for transferring Facebook shares out of the hands of people who bought into the IPO into the eager hands of larger buyers eager to participate at much better prices. (Yes, for a brief moment I thought I was one of those clever buyers!). It is perhaps easy to forget that Facebook stumbled into just about the worst timing possible for this IPO relative to market sentiment: for example, the S&P 500 suffered one of its worst performances in May since at least 1950.
Last week, Facebook showed a glimmer of promise with a bottoming chart pattern as buyers finally picked the stock off fresh all-time lows into a rare positive gain for the day. That promise lasted all of three days.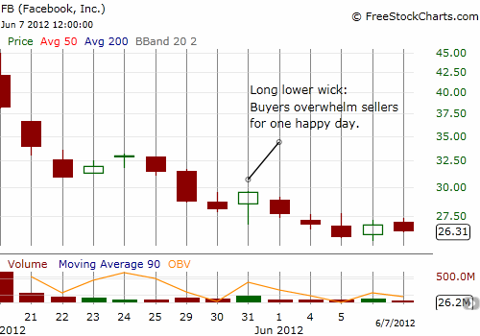 Facebook's steady decline into the abyss...
Source: FreeStockCharts.com
I will not guess where FB will finally find equilibrium between the hate and the love, but I do suspect that its first earnings report will be held as a major litmus test. If Facebook flubs that event, even avid users like myself may have to join the growing, angry mob.
Be careful out there!