As everyone knows, Wells Fargo (NYSE:WFC) is not only an industry leading money center bank and diversified financial institution, but it managed to strengthen itself during the financial crisis with the acquisition of Wachovia Corporation. That acquisition helped catapult Wells Fargo to the position of fourth largest US banking institution by assets.
In addition to being the fourth largest US banking institution by assets and one of only four US financial institutions with over $1 trillion in assets, the acquisition also resulted in Wells Fargo being a leader in the following market segments:
Largest Retail Mortgage Lender and Servicer
Largest Used Auto Lender and 2nd largest overall auto lender
Largest Small Business Lender
2nd Largest Private Student Lender
3rd Largest US Brokerage network with over 15,000 financial advisors
4th Largest US Bank Holding Company by Assets with $1.33T in assets
4th Largest Wealth Management Provider
5th Largest Family Wealth Office Organization
9th Largest US Investment Bank by Fees
28th Largest Global Asset and Wealth Management Organization
Wells Fargo's unique ability to succeed across consumer banking, commercial and corporate banking and wealth management makes it a favorite bank stock for investors. We have always admired it and can see why Warren Buffett's Berkshire Hathaway (BRK.A, BRK.B) bought into it during the 1989-1991 banking crisis. In 1998, Norwest Bank in Minneapolis acquired legacy Wells Fargo, renamed the combined company Wells Fargo and moved the company's headquarters to San Francisco. This was because Wells Fargo had stronger brand recognition and the combined company had $54B in California-based deposits, but only $13B in Minnesota deposits.
According to Hagstrom's The Warren Buffett Way, when Buffett bought pre-merger Wells Fargo during the 1989-1991 banking crisis, it was known that banking was not Buffett's favorite business due to the high leverage associated with banks, which magnifies mistakes in even a small portion of a bank's balance sheet assets and can destroy large portions of owners' equity. He bought Wells because he believed that he obtained the best bank managers in Paul Hazen and Carl Reichardt. We also believe that Richard Kovacevich and John Stumpf, who were legacy Norwest executives, have been excellent leaders who have overseen Wells Fargo's transformation into a world class banking and diversified financial services institution.
Wells Fargo is a Top 30 global money manager for institutions and individuals. Legacy Norwest had its own family of mutual funds and Wells Fargo had Wells Fargo Nikko, a joint venture consisting of Wells Fargo Investment Advisers and Nikko Securities' US investment business. Wells Fargo Nikko was a pioneer in passive index investing and Louis Navellier even worked as an intern on a project involving Wells Fargo's index portfolio models. Wells Fargo sold Wells Fargo Nikko to Barclays PLC (NYSE:BCS) in 1995, but retained Wells Capital Management, which managed institutional assets and Wells Fargo's Stagecoach Mutual Fund Family. Norwest Investment Management was merged into Wells Capital Management one year after Norwest acquired Wells Fargo. Other firms acquired by Wells Capital Management include the following:
Sutter Advisors was created as a separate WCM subsidiary to management high yield and bank loan debt strategies in 2001
Montgomery Asset Management's High Grade Fixed Income business in 2003
Benson Associates (Small Cap Equities) in 2003
Strong Financial Corporation's Asset Management business in 2005, after that organization was rocked by its market-timing scandal
Evergreen Investments in 2009 during the Wachovia acquisition
Wells Fargo's asset and wealth management division managed $568.1B as of December 31, 2010 and was the 28th largest money manager worldwide. WCM has generated above-average risk adjusted returns for its mutual fund shareholders with average levels of expenses as evaluated by Morningstar's Mutual Fund Research Team.
Click to enlarge

Click to enlarge
Source: Morningstar Direct
If only Wells Fargo had bought out Nikko's interest in the Wells Fargo Nikko joint venture instead of selling it to Barclays . If Wells Fargo had held onto it, it would be the worldwide leader in the global asset management industry. When Wells Fargo sold it to BCS, Wells Fargo Nikko had $170B in passively managed index funds under management. Barclays bought it for $800M, combined it with its BZW asset management business to form Barclays Global Investors and the resulting entity had $250B in client AUM in 1995.
Despite dealing with two severe financial markets crises, BGI grew its AUM from $250B in 1995 to $1.85B in 2009 before Barclays sold BGI to BlackRock (NYSE:BLK) for $13.5B. BGI grew its assets without the aid of acquisitions; this resulted in a compounded annual growth rate of 15.37% during the 14 years it was owned by Barclays Capital. AUM grew due to the rapid growth of the iShares ETF product suite, as well as due to increased interest in indexing as most active managers of mutual funds and separate accounts failed to meet their applicable investment benchmarks.
In a future research analysis report series, our firm will be covering the performance of actively management mutual funds, index vehicles and how those products compare to certain segments of the financial industry. Not only did Barclays earn a solid $12.7B gain on its BGI operations (22.37% CAGR), but by selling it to BlackRock at a gain, Barclays was about to bolster its North American investment banking business and balance sheet as well as avoid taking a bailout from the British government.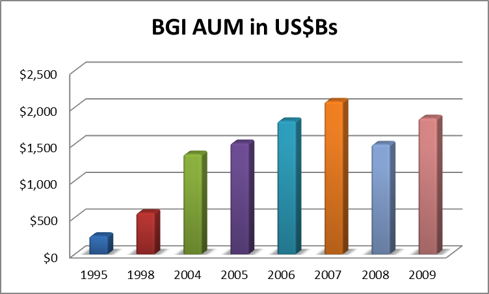 Click to enlarge
Source: Barclays Press Releases and Annual Reports
In conclusion, we believe that with the exception of cashing in its index asset management business and its poorly executed merger with First Interstate, Wells Fargo has been a near flawless, high performing banking institution since the 1980s. We can see why Warren Buffett is enamored with this bank. We also believe that Wells Fargo has learned from the past and will have a more proactive approach towards building its asset management and wealth management businesses. If only it had bought Barclay's BZW asset management business, it would also be the worldwide leader in money management, with about $2.5B in AUM as of last year.
Disclosure: I am long BLK, BRK.B.
Additional disclosure: Saibus Research has not received compensation directly or indirectly for expressing the recommendation in this report. Under no circumstances must this report be considered an offer to buy, sell, subscribe for or trade securities or other instruments.