NetGear (NASDAQ:NTGR) shares are down sharply in after hours trading Wednesday after the company reported disappointing fourth quarter results and weaker-than-expected first quarter guidance.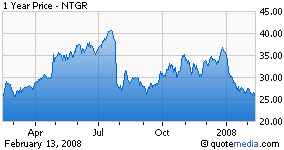 The wireless networking hardware vendor reported fourth quarter revenue of $198.3 million, with non-GAAP EPS of 41 cents; the Street had expected $199.4 million and 45 cents. For the first quarter, the company sees revenue of $201 million to $205 million, with non-GAAP operating margin of 11%-12%.
In the latest quarter, non-GAAP operating margin was 10.8%, down from 11.6% a year ago, and 11.7% in the third quarter. The company said the lower margins reflected "unexpected high costs of air freight in the fourth quarter." Wow, that's novel. An earnings miss on air freight costs.
In after hours trading, NTGR is down $2.27, or 8.5%, at $24.60; that reverses a gain of 97 cents in the regular session.