5-Year Follow-Up Data Presented for NeuVax Phase I/II Trials
Recently, Galena (NASDAQ:GALE) presented data from the Phase I/II clinical trial of NeuVax (E75) at some meetings including the ASCO 2012 Annual Meeting. At the ASCO, the poster was entitled "Safety and Long-Term Maintenance of Anti-HER2 Immunity Following Booster Inoculations of the E75 Breast Cancer Vaccine" (Abstract #2529).
Patient Demographics
The trials included SN-33 (Node Positive, n=97) and SN-34 (Node Negative, n=90), which evaluated a combined 187 patients with 108 in the vaccine group (VG) and 79 in the unvaccinated control group (CG).
In terms of patient demographics, we think the vaccine and control groups were generally well-matched. Although there were some imbalances between VG and CG, they were not significant. The only statistically significant difference was ER-/PR- status (31.1% in VG vs 17.7% in CG, p=0.04).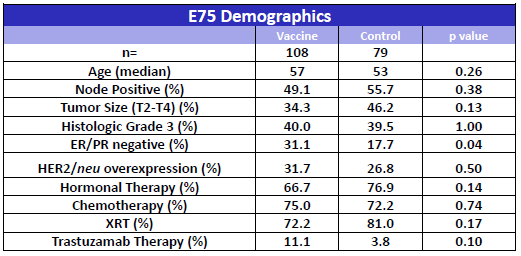 The Rational for Booster Inoculation
Patients were initially given a series of up to six inoculations of NeuVax once a month. As the trials progressed, the physicians noticed that E75-specific immunity waned after this initial monthly primary vaccine series (PVS) and translated to late recurrences of cancer in some patients. As a result of this finding, a voluntary booster program was added to the trials to maintain long-term immunity following the initial monthly PVS.
The booster program offered patients an additional inoculation every six months with a maximum of six boosters. Because the booster program was voluntary, not all women chose to receive the full six additional doses.

The Results
NeuVax was well tolerated with primarily grade 1 and grade 2 toxicity in the PVS (Local Toxicity: 85% Grade 1, 15% Grade 2, 0% Grade 3; systemic toxicity: 71% Grade 1, 14% Grade 2, and 3% Grade 3). Booster inoculations were well-tolerated with only grade 1 and 2 local and systemic toxicities.
Booster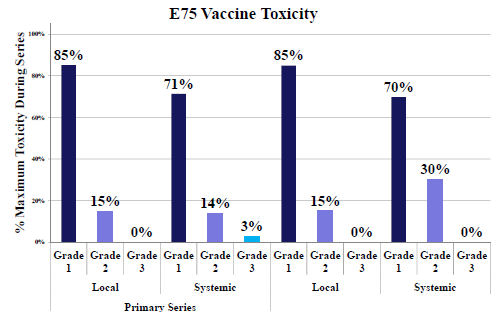 After a median follow-up of 60 months, there has been a non-significant increase in the Disease Free Survival (DFS) observed in the VG compared to the CG (89.7% vs 79.6%, p=0.098)-a recurrence reduction of 49.5% among all patients at any dose.
However, in the booster group (to date, 53 patients received at least one booster), the results show that, at a median of 60-months, the disease-free survival for the booster group (n=53) was 96.2% vs 80.5% in the control group (n=79) (p=0.01); and, the recurrence rate for the booster group was 3.8% vs 18.9% in the control group.
The final patients are completing their booster treatments and final follow-up visits are expected by September 2012. The final data analysis is expected to be reported in the fourth quarter of this year.
Our assessment of the booster inoculations from the data presented: the booster inoculations are well-tolerated and don't increase any side effects compared to the primary vaccine series. Further, booster inoculations appear to assist in the maintenance of long-term peptide-specific immunity. In terms of efficacy, boosted patients have better recurrence rates and improved DFS compared to patients who did not receive vaccine. This may be attributed to increased immunity induced by the booster inoculations.
As a result of these findings, booster inoculations have been incorporated into the design of the ongoing Phase III PRESENT study.
SN-33 HER2 Negative Booster Patients Established the Phase III PRESENT
At this year's ASCO meeting, GALE also presented 5-year follow up data of NeuVax from the SN-33 trial separately at a physician panel.
SN-33 was conducted in node positive patients, and was well balanced between the two arms: Vaccine HLA-A2/A3 positive (n=53) vs Control HLA-A2/A3 negative (n=44). During the conduct of this trial, Herceptin® (trastuzumab; Genentech/Roche) became commercially available for HER2 IHC Positive (3+) patients, and the trial was modified accordingly to allow these patients to receive Herceptin, and exclude this patient group from future enrollment and analysis.
Below are the summary results from the SN-33 trial. SN-33 Intent-to-treat (ITT) population (n=97):
24-month Landmark Analysis: 90.6% of NeuVax patients (n=53) were disease-free versus 79.5% of patients on the control arm (n=44) (p=0.1155).
60-month Analysis: 84.5% of NeuVax patients (n=53) remain disease-free versus 77.1% of patients on the control arm (n=44).
Following is the summary of SN-33 HER2 Negative (IHC 1+,2+ and/or FISH < 2.0) patients who received boosters (n=45).
24-month Landmark Analysis: 0% recurrences for patients treated with NeuVax: statistically significant DFS for NeuVax at 100% (n=18) vs 77.8% Control (n=27) (p=0.0358).
36-month Landmark Analysis: 0% recurrences for patients treated with NeuVax for a statistically significant DFS for NeuVax at 100% (n=18) vs 77.8% Control (n=27) (p=0.035). Of note, no patients receiving booster inoculations had a recurrence through 36 months, which is the Phase III PRESENT study endpoint.
60-month Analysis: 5.6% recurrence rate with NeuVax versus 25.9% recurrence rate in the control arm.
DFS for NeuVax at 94.4% (n=18) vs 74.1% Control (n=27)-a recurrence reduction of 78.4% in the target patient population.
This new, 60-month data analysis shows that breast cancer recurrence is greatly reduced for patients treated with NeuVax and that these results are both clinically relevant and durable over time.
The Phase III PRESENT Trial is Underway
Based on the SN-33 booster data, on Jan. 20, 2012, GALE initiated the Phase III PRESENT trial for NeuVax (E75 peptide plus GM-CSF) vaccine in HER2 1+ and 2+ breast cancer patients in the adjuvant setting to prevent recurrence.
The PRESENT (Prevention of Recurrence in Early-Stage, Node-Positive Breast Cancer with Low to Intermediate HER2 Expression with NeuVax Treatment) study is a randomized, multicenter, multinational clinical trial that will enroll approximately 700 breast cancer patients. The trial design has been updated to include current National Comprehensive Cancer Network guidelines and recently received Special Protocol Assessment (SPA) concurrence from the FDA. Based on a successful Phase II trial, which achieved its primary endpoint of disease-free survival , the FDA has agreed that the design and planned analysis of the Phase III study adequately address the objectives necessary to support an acceptable regulatory submission for marketing approval.
The NeuVax Phase III trial will be conducted in adjuvant breast cancer patients who are node positive, have an HLA status of A2/A3+, and have low or intermediate HER2 expression (IHC 1+, 2+, sometimes referred to as HER2 negative). These patients are not eligible to receive Herceptin (trastuzumab, marketed by Roche-Genentech) therapy that is currently approved only for patients with high HER2, or 3+ expression.
According to the protocol, once qualified patients have achieved a complete response from current standard-of-care treatment (surgery, radiation and/or chemotherapy), they will be randomized and dosed with either NeuVax (E75 + GM-CSF) or control (placebo plus GM-CSF). Patients will receive one intradermal injection every month for six months, followed by a booster inoculation every six months thereafter. The primary endpoint is disease-free survival at three years or 139 events (recurrence of cancer). A data safety monitoring board will conduct an interim analysis for safety and futility after 70 events.
To date, 35 sites are approved in four countries, over 20 sites are enrolling, and expanding to approximately 100 sites total in 2012.
We think the Phase III trial design is prudent based on the existing data from the Phase I/II trials. This Phase III trial is well designed and better controlled one compared to the Phase I/II trials.
Valuation is Attractive
In terms of valuation, we think GALE is attractive at current price. Right now, shares of GALE are trading at about $1.30 per share, which values the Company at about $78 million in market cap.
GALE has established a relatively diversified cancer pipeline. The Company has made great progress in the past few months in its clinical programs, IP protection and strengthening its balance sheet. The Company has become stronger than ever with the split of RXi Pharmaceuticals with more focused cancer programs and less cash burn for its operations.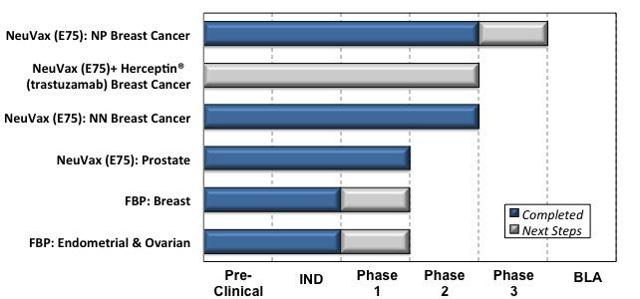 Disclosure: I have no positions in any stocks mentioned, and no plans to initiate any positions within the next 72 hours.
Disclosure: I/we have no positions in any stocks mentioned, and no plans to initiate any positions within the next 72 hours.
Business relationship disclosure: I work as a Consultant Analyst for Zacks Investment Research. The article is written by me and is 100% my opinion. I receive compensation from Zacks for writing equity research reports and providing valuation analysis on this company's stock and expect to do so in the future. Zacks receives compensation from the company. Please see the Zacks Disclaimer for further information: http://scr.zacks.com/Disclaimer/default.aspx