iShares Dow Jones Medical Devices ETF (NYSEARCA:IHI) fell more than 5% year to date through February 8 but easily outperformed broad market indices. IHI's performance for the period also ranked among the top 11% of funds in Morningstar's health category and helped lift IHI to 13th place on the ETF Momentum Tracker sector ranking, up from 19th in the last week of 2007.
If pessimism about the U.S. economy continues to hold sway over investors, stocks in the notoriously defensive health care sector might compare even more favorably with less stable corners of the market in the months to come. In that case, look for IHI to push its way into the table's top 10, and possibly into the ETF Momentum Tracker Sector Portfolio.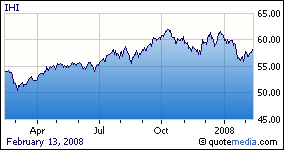 IHI invests in about 41 stocks of U.S. companies that manufacture, distribute and market medical devices. Such devices range from basic hospital staples—such as needles, syringes and incontinence products—to cardiovascular stents, insulin pumps, pacemakers and larger-scale technologies such as imaging machines. IHI is weighted much more heavily toward smaller-cap stocks than are most funds that track the broader health care sector. Its recent average market capitalization of $7.8 billion reflects the fact that the fund does not invest in the giant pharmaceutical and health care provider stocks that gave the much more broadly focused iShares Dow Jones US Health Care (NYSEARCA:IYH) its recent $36.5 billion average market cap.
IHI's tight focus on the medical device slice of the health care sector offers investors a narrow take on a small industry. That strategy brings increased risk as well as the potential for impressive returns. Lately, the fund has experienced the upside of that equation. iShares Medical Devices gained more than 6% for the year ending February 11, while its sector siblings IYH and iShares Dow Jones Pharmaceuticals (NYSEARCA:IHE) each fell several percentage points and iShares Dow Jones Health Care Providers (NYSEARCA:IHF) gained only 2.5%. Among those funds, only IHF came close to matching IHI's more-than-18% return for 2007.
Like any fund that delivers outsized returns, IHI also has the potential for steep losses. Since the fund was launched less than two years ago, there's little history behind it to give a sense of just of how volatile it really is. But with almost 60% of the fund's assets typically invested in its top 10 holdings, investors can expect the fund to suffer if one or two of those top stocks dive. Furthermore, firms in this industry depend strongly on unpredictable factors, from clinical trials to regulatory approvals—so it's easy to imagine any of those stocks taking a sudden turn.
Recent IHI top holding Medtronic (NYSE:MDT) is a good example: Stock in the firm plummeted last October after the company announced a recall on a faulty wire in its implanted heart defibrillators. IHI dropped sharply on October 15, largely due to Medtronic's troubles, after reaching an all-time high only a few days before. Sales in Medtronic's defibrillator products ended up falling 16% in the second quarter of 2007, though they have since recovered.
While funds that focus on pharmaceutical, biotechnology or health care provider stocks have their own appeal, there are some reasons to think that stocks in medical device firms might survive an economic downturn particularly well. For one, medical device companies face much less of a threat from patent expirations and generic competition than big pharma firms do. Several of IHI's top holdings—such as Abbott Laboratories (NYSE:ABT) and Boston Scientific (NYSE:BSX)—sell pharmaceutical products, but they have only slight exposure to patent expirations over the coming year. Moreover, the use of implantable heart devices, a huge product category for medical device firms, seems to be recovering after recalls and safety concerns caused sales to lag late last year. In particular, sales of cardiovascular stents appear to be poised for growth, a development that bodes well for stent makers and IHI holdings Abbott Laboratories and St. Jude Medical (NYSE:STJ).
A weak U.S. dollar has also helped firms in IHI's portfolio by giving them an edge over international competition. Foreign sales of medical devices are brisk, and U.S. firms are quickly taking the opportunity to stake out sizable market shares. One of the most internationally minded firms in IHI's portfolio is recent number two holding Thermo Fisher Scientific (NYSE:TMO), which operates in 150 countries and derives at least one-third of its revenues from outside the U.S.
What's more, many medical device stocks appear to be undervalued. In a recent feature on health care ETFs, Morningstar estimated that the average stock in IHI's portfolio was priced at 9% less than its fair value. If that analysis is sound—and if a weak economy keeps health care stocks healthy—IHI's fall into negative territory so far this year might soon reverse course.