The first quarter results from Oyo Geospace (OYOG) were pretty disappointing. Quarter over quarter growth was negative after the company reported $0.60 per share in earnings in their fourth quarter (excluding one-time items), earnings fell to $0.54 per share in their first quarter of 2008. There were no RCS contract announcements, and the move to their new 170,000 square foot facility is still on-going.
There were some positives reported in their earnings release. The company announced that they have received an order for their first wireless data acquisition system in the amount of $1.4 million. They also announced the sale of a $3 million seismic borehole system. Both are respectable "lumps" for a company that produces very lumpy earnings.
The release also indicated that the company continues to respond to inquiries regarding permanent and retrievable seabed seismic systems. I guess the potential sale of RCS systems in the future is still a possibility given this statement.
I'm no engineer, but it seems that a move to a new facility should not take nine or even twelve months to complete. Oyo first announced their move was underway back in August, and as of February 2008 it is still ongoing. In the long run, a delay of a quarter or two is likely meaningless.
For now, however, it seems like a slipping opportunity to capitalize on product demand. Based on this, it seems unrealistic to expect any real earnings growth from the company for several more quarters. It is better to project stagnation and be surprised as an investor than to make decisions based on aggressive expectations.

Estimated Baseline Earnings
My baseline earnings as calculated in December are still relevant for Oyo Geospace. I have included them below: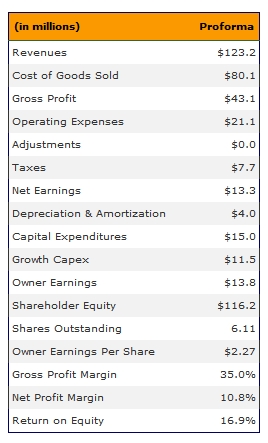 Valuation
Because of the delays reported, I have made some modifications to my growth projections for Oyo Geospace. My valuation starts with owner earnings of $13.8 million. I expect a 5-year growth rate of 12%, followed by growth in years 6-10 of 9%, and a reversion based on a P/E ratio of 13.5 in year 10. Then, I discount these cash flows back at 10%. This scenario results in a value of $53 per share. It should be noted here that this value excludes the sale of RCS systems or the adoption of these systems by the industry. Based on my previous calculations, adoption of their RCS system could add $13 per share to this value.
This valuation is pretty conservative, but Oyo hasn't done much in the past two quarters to justify lofty expectations. This estimate of value is especially discouraging considering the stock traded at over $100 per share late last year. When Oyo was trading over $100, however, I anticipated that their move to a new facility would have been completed by now and the sale of RCS systems would remain as a definite possibility.
Conclusion
I will continue to hold shares of Oyo Geospace, though I will likely look to reduce my exposure somewhat within the Two Roads Diverged Portfolio. The upside for this company could still be extremely positive, but as time goes on and growth continues to stall this potential seems less likely.
Disclosure: Long Oyo Geospace.