As I mentioned in part 1, an article in the print edition of the Financial Times sparked my investigation of the agricultural sector for possible candidates for an income oriented retirement portfolio. In that article, I considered farm equipment manufacturers and firms engaged in seed development and production, as well as pest/disease control.
From there, I also looked at commodity trading firms, as well as fertilizer companies. Trading firms function as "middlemen", purchasing commodities from the producers, providing storage, handling and in some cases, some measure of processing, then selling them to food companies. Many trading firms are privately owned, such as Cargill, but at least a few trade publicly.
Archer-Daniels Midland Company (NYSE:ADM), headquartered in Decatur, Il., is one of the world's largest processors of agricultural products. Among the crops this firm handles are corn, wheat, soybeans, and cocoa. In addition, ADM has a strong position in Asia in the oilseed markets (soybean and palm oil). ADM is also active in the biofuel segment, both domestically, as well as globally.
ADM's currently trading towards the upper end of the stock's 52 week range of $23.69- $33.98; it closed on June 1 at $30.92. At that price, ADM yields 2.26%. Although that is a relatively low yield, the firm HAS been raising the dividend consistently from $.115 per share per quarter in 2007 to a current $.175, with raises coming annually. (There's been no raise thus far this year, although it was raised in November, 2011 from $.16 to the current rate.
Here's the chart for ADM: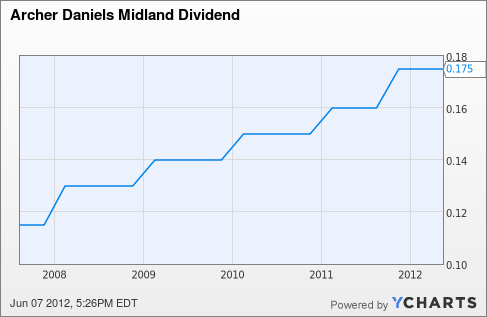 The other publicly traded commodity trading firm that I looked at is Bunge, Ltd. (NYSE:BG), also listed on the New York Stock Exchange. Founded in Amsterdam in 1818 as an import-export firm, Bunge moved the headquarters to White Plains, New York, in 1999. BG went public in 2001 on the New York Stock Exchange, where it is one of the oldest companies listed.
BG initiated operations in Argentine in 1859, expanded to Brazil in 1895, and entered the North American market in 1918. BG is currently the largest exporter of soybeans from Brazil.
Compared to ADM, BG is more favorably priced, trading not far off of the bottom of the 52 week range of $54.03-$73.49. At June 4th's closing price of $57.83, the yield is 1.86%, a shade below that of ADM, but from a total return perspective (capital appreciation plus yield), BG impresses me as a somewhat better value than ADM. BG is also a consistent dividend-raiser, having steadily increased the dividend from $.17 per share per quarter in 2007, to the current $.25.
Here's the dividend payment chart for BG: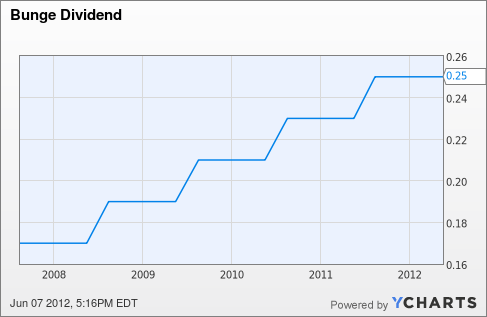 Note the comparatively even "stair steps" of the chart.
By now, some readers may well be thinking "Where are the big yielders? This guy keeps talking income and dividends, but all that I'm seeing is 2-3% (at best) yields." First, although primarily interested in income, capital appreciation runs a close second on my criteria and I feel that the firms mentioned offer a respectable total return, particularly if an investor has an intermediate to longer term horizon.
Still, for those readers doing a Tom Cruise impression, pounding the desktop, yelling "SHOW ME THE MONEY!", the last sector that I evaluated, fertilizer manufacturers, should provide some mollification.
The first firm, Potash Corporation of Saskatchewan, Inc. (NYSE:POT), is the world's largest independent producer of potash, and a leading phosphate and nitrogen producer. POT has 6 Canadian potash mines, 2 phosphate mines in the US, as well as 9 upgrading facilities located both in the U.S., as well as in Trinidad. POT also owns a 32% stake in Sociedad Quimica y Minera de Chile (NYSE:SQM), as well as a 10% stake in Israel Chemicals Ltd. (NYSE:ICL).
Trading near the bottom of a 52 week range of $36.73-$62.60, POT yields 1.49% with currently quarterly payment of $.14 per share, up from $.0333 five years ago. After becoming a public-traded firm (it had been a Crown Corporation; that is government-owned), the dividend had been maintained at $.0333 for several years, but was raised to $.07 in 2011, and again in April of 2012 to $.14.
POT's dividend chart looks like this: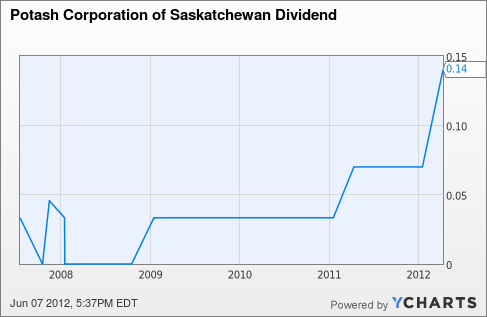 The second firm that I considered was Mosaic Co. (NYSE:MOS), formed in 2004 by the combination of IMC Global's and Cargill's fertilizer businesses. Cargill, one of the privately owned commodity trading firms above, still owns a 64% stake in MOS. MOS has assets both in Canada, as well as in the US.
The dividend story is not as bright for MOS. Currently trading at $45.62, near the bottom of the stock's 52 week trading range of $44.43-$74.31, it yields only 1.09%. The history of increases isn't anything to get excited about, either, having gone from $.05 per share per quarter in 2008 to the current $.125. The increase only took effect in Q1, 2012, although, in all fairness, MOS did pay a "special dividend" of $1.30 in 2009.
This will show a not-so-pretty picture: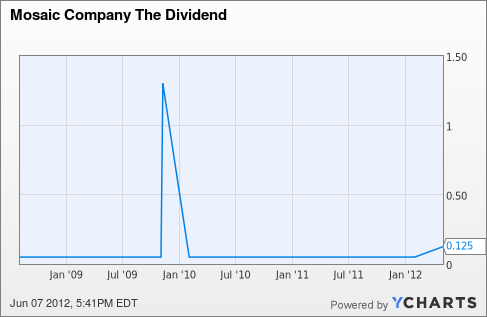 The final firm that I considered was Terra Nitrogen Company, L.P. (NYSE:TNH). Sharp-eyed readers will have noted the "L.P.", indicating that yes, this is a Master Limited Partnership (MLP), which accounts for the 8.28% yield. At $193.16, TNH is trading just below the midpoint of the 52 week range of $115.90-$298.50. The single asset owned by TNH is a manufacturing facility located in Verdigris, Oklahoma. The general partner is CF Industries, via CF Industries Holdings, Inc.
Typical of many MLPs, the distributions can be "lumpy". By way of example, quarterly distributions have ranged from a low of $1.25 in May, 2010, to as much as $4.84 in May, 2011. Below is a chart of distributions: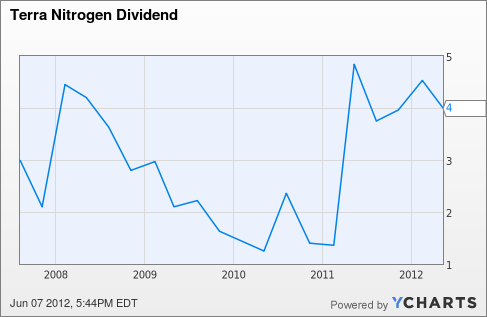 As mentioned, the dividend is pretty darn uneven, but taken overall, the size of the payouts trumps the unevenness, to my way of thinking.
Going back though my research, what strikes me as the best way going forward would be for an investor to split up an allocation to the agricultural sector by taking positions in DD, BG, and TNH. Such an allocation should strike a happy balance between a respectable current yield, while also giving dividend growth, and some capital appreciation.
Disclosure: I have no positions in any stocks mentioned, and no plans to initiate any positions within the next 72 hours.