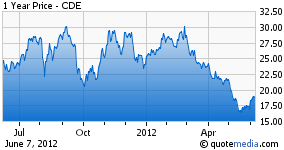 The precious mining sector has had a tough few months as volatility in the market has escalated. However, given the inflation impacts of a possible "QE3" and stabilization in gold and silver prices, the sector is worth another look. One miner I like here is Coeur d'Alene Mines Corporation (NYSE:CDE).
7 reasons CDE is a bargain at under $19 a share:
The company just announced a $100mm share repurchased program, which represents more than 6% of the float at the stock's current price.
The stock is selling at the very bottom of its five year valuation range based on P/E, P/B, P/S and P/CF.
The company has net cash on the books and is selling at just 79% of book value.
The company just restarted production at its Mexican mine and is selling for a five year projected PEG of way under 1 (.22).
The stock is selling at under 7 times forward earnings, a substantial discount to its five year average (18.5).
The company has beat earnings expectations for the last two quarters. Consensus estimates for FY2012 and FY2013 have ticked up over the last month after falling over the previous two months.
The stock is selling under analysts' price targets. The median analysts' price target by the 9 analysts that cover the stock is $29, more than 50% under the current stock price.
Disclosure: I am long CDE.