In an article published on February 16th , I wrote that for a number of reasons, investors were likely better off staying away from the big two labs, namely, Quest Diagnostics (NYSE:DGX) and Labcorp (NYSE:LH). Instead I recommended investors take a look at two of the three remaining publicly traded clinical labs at the time, Medtox (NASDAQ:MTOX) and Enzo (NYSE:ENZ). My reasoning at the time was that while Quest and Labcorp were struggling to see organic volume growth, Enzo and Medtox had seen double digit growth over the past few years.
On Monday, Labcorp announced the purchase of Medtox for $27 per share or $241 million. On a trailing twelve month basis, the purchase price equates to 2.2x sales, 47x EPS and 27x free cash flow. At first blush, this looks like a pretty expensive acquisition, however, when looked at more critcally, investors can see why Labcorp was willing to pay up for this asset. Historically, the big labs have liked making tuck-in acquisitions. The reasoning usually is that Quest and Labcorp already have substantial lab space, IT departments, billing, etc. When merged, the goal is to bring the margins of the acquired lab up to the level of the purchaser. As of the latest quarter, Medtox was running at a 8.5% operating margin while Labcorp was running at about 20%. It doesn't happen overnight, but if Labcorp is eventually able to bring up the margin to their level, the acquisition looks much more reasonable at approximately 13x free cash flow.
Aside from valuation, investors should look critically at the reasoning behind this acquisition. Since 2007, the sales growth at Medtox has not been phenomenal at about an 8% CAGR. In fact, net income is still off its peak from $6.7 million in 2007 to about $5 million in the trailing twelve months. Medtox has been around since 1983 and has had a strong position in the niche drug of abuse testing market. However, when the recession hit in 2007, employers had significantly less need for tests as they were hiring less frequently. This, along with investments in growth, caused operating margin to contract from a peak of 14.7% in Q3:2007 to a low of -2.5% in Q4:2008, before rebounding to its current level of 8.5%. All of these financial metrics paint a picture of a company with volatile operating performance. So, what made Labcorp want this asset now?
Medtox Historical Operating Margin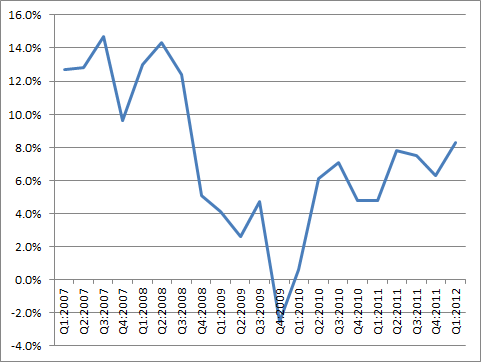 As mentioned in my previous article, Medtox began efforts to gain share in the Minnesota market for clinical lab work. Organically, the company grew sales in this segment from $0 in 2008 to $36 million heading into 2012. While these investments in growth helped to hold back margin in 2008 and 2009, management's strategy of leveraging its capacity has clearly worked out for the company. Our guess is that Labcorp saw a growing competitor in a major market and wanted to purchase the book of business while it could still justify the acquisition price. This leads us to look one of the last remaining publicly traded clinical lab, Enzo.
Enzo is similar to Medtox in that it has both a product and service business. The primary difference is that about 55% of Enzo's sales come from lab services while 78% of Medtox's sales are from lab services. Similar to Medtox, Enzo hit a wall in its testing business, but for a different reason. While the company continued to grow volume through the recession, as it got larger, and insurers started to put them on the map, management made the decision to go in-network with insurers. For a lab, going in-network typically implies that the reimbursement will go down, while getting reimbursed is made easier. This had the effect of flattening Enzo's lab sales in 2009 and crushing its gross margin. Since then, the company has climbed back and grown sales 50% in the past three years, while improving the gross margin profile.
One of the factors that has held the company back from being profitable recently has been its high spend on legal fees. The legal fees are associated with patents the company has held for many years. Management has chosen to go after large life science tools makers that it believes are infringing upon its patents. Since 2007, the company has spent nearly $30 million in legal fees. Management's justification is that it is receiving royalties as a result of one of its cases. The company thinks it can replicate this going forward.
As previously mentioned, about half of Enzo's revenue comes from services. The other half comes from life sciences tools and reagents. The company thinks that as a combined entity, there will be benefits to having a segment that knows how to make innovative tests and having a salesforce to sell it into the New York metro market.
| | | | |
| --- | --- | --- | --- |
| Date | Buyer | Target | Price/Revenue |
| 2001 | Dianon | UroCor | 3.2x |
| 2001 | Quest Diagnostics | Unilab | 2.8x |
| 2003 | LabCorp | Dianon | 2.9x |
| 2003 | Welsh Carson | AmeriPath | 1.7x |
| 2005 | Quest Diagnostics | LabOne | 2.0x |
| 2006 | Quest Diagnostics | Focus | 2.8x |
| 2007 | Quest Diagnostics | AmeriPath | 2.6x |
| 2007 | Quest Diagnostics | HemoCue | 4.7x |
| 2007 | Aurora Diagnostics | Greensboro Pathology | 4.1x |
| 2010 | GE Healthcare | Clarient | 5.0x |
| 2010 | Sonic Healthcare | CBLPath | 1.5x |
| 2010 | LabCorp | Genzyme Genetics | 2.5x |
| 2011 | Novartis | Genoptix | 1.7x |
| 2011 | Quest Diagnostics | Celera | 2.7x |
| 2011 | Quest Diagnostics | Athena Diagnostics | 6.7x |
| 2012 | Labcorp | Medtox | 2.2x |
Right now, Enzo is trading for 0.5x EV/Sales. While Enzo is not profitable currently, it should be cash flow breakeven in 2013. As an independent company, investors will need to see continued growth in the company's clinical lab business as well as a clear sight to profitability in order to bid shares higher. We have zero knowledge of or confidence of any such deal happening, however, its entirely possible that Labcorp and Quest could find Enzo to be an attractive acquisition target. The primary reason Enzo would be a good strategic fit for one of these labs is because it has nabbed a noticeable and growing portion of the New York metropolitan clinical lab business. Also, Enzo recently passed the all-important $100 million mark in sales, which typically puts a company on the map due to perceived scalability. It's anyone's guess what an appropriate multiple would be, however, if history is any indication, labs generally do not sell for less than 1.5x sales, implying significant upside in Enzo shares if a deal were to happen.
Disclosure: I am long ENZ.