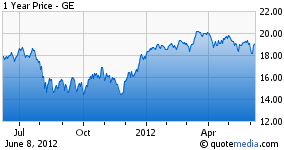 General Electric (NYSE:GE) is betting on new alternative fuel, which has the potential to become one of General Electric's biggest goldmines to date. The corporate giant opened a new facility where companies can check out cars and trucks that run on something other than gasoline. Run by GE Capital Fleet Services, a company that already leases over 1 million vehicles to various corporations, GE is eager to get this rolling. The company is hoping to include a delivery truck that can run at least 100 miles between charges, a massive accomplishment in the industry that has people talking.
Chief engineer of FedEx (NYSE:FDX), Kshav Sondhi, took one of the trucks for a drive-the company already has over 50 trucks in high-density markets like NYC and Chicago. He said that FedEx is looking to deploy even more electric trucks in urban destinations. The company is looking to turn one-third of their fleet (9,000 vehicles) to be all-electric, where all urban routes would be conducted by electric vehicles. According to Sondhi, running an eStar (the new electric-powered delivery truck by GE) costs a fifth of what it costs FedEx to operate a gasoline-powered truck. That's a significant reduction. However, the investment is not a cheap one as the eStar costs $150k, that's triple the cost of a regular truck-so even after a decade, the eStar will still cost more than a traditional truck.
For many corporations like FedEx, however, saving money isn't what it's all about. According to Sondhi, FedEx's main concern is becoming independent from foreign oil. Other organizations' priorities may be a bit different, with environmental concerns taking a precedence for them. Regardless of why companies want to opt into using electric vehicles, GE can take advantage of this growing opportunity by offering them a range of vehicles from electric-powered cars, to larger garbage trucks run on natural gas. Natural gas can cost as little as $1/gallon, so this is an attractive opportunity on all fronts.
According to U.S. government reports, only 4% of vehicles in the U.S. run on alternative fuels but GE are confident things are gradually changing now. The only drawback so far has been the hefty prices of these vehicles, even if in the long run, consumers are spending less on maintenance and helping maintain a greener earth. Right now, two-passenger electric cars are going for anywhere from $20,000 while larger trucks are selling for a whopping $100k. However, GE executive manager Frodl said that with state and federal tax breaks and subsidies in place, bottom line can be reduced by as much as $15,000!
This is what the future is all about; in a few years, companies will no longer look at electric cars and think, 'Oh yeah, it would be nice for our company to go green and all … but …' but rather, 'Oh yeah! This is going to help our bottom line."
However, to a lot of other people, financial motivation isn't always the biggest determining factor. 3000 out of the 7800 state vehicles in the state of Minnesota already run on an alternative energy that costs 10-15% less than regular gasoline, but according to Holly Gustner, assistant of the Minnesota Department Administration (fleet and surplus division), vehicles that run on this alternative energy (the E85), also run about 15% less miles / gallon. So in the end, it's the same cost.
What's different, however, is that companies and governments are willing to pay even more if it means getting cleaner energy and saving the ozone. And with predictions in place, GE is confident that within the next 5 years, alternative fuel vehicles will account for over 10% of total vehicles running on the road.
Compared to its main rivals, namely Honeywell International (NYSE:HON) and United Technologies (NYSE:UTX), is General Electric still the company to invest in right now? Honeywell was down 3%, and while it has seen better than anticipated demand from the U.S., it is finally feeling Europe's economic turmoil, with more losses predicted for the future before things may start to look up again for it while United Technologies is also seeing a downwards trend.
Forecasts show that General Electric will grow 12.4% in 2012, and 14.3% and 18.2% in 2013 and 2014 respectively. Already dubbed the largest power-generation equipment maker, the company has big plans for the MENA region (that's the Middle East, North Africa along with Turkey and Pakistan), hoping to double its revenue. Governments in these areas, according to Nabil Habayeb GE regional President and CEO, are looking to invest billions of dollars in energy efficient equipments and technologies. Already in 2011, the company made over $8.6 billion in revenue from the MENA region (it reports a total of $147.3 billion in total)-that's 5 times more than what it made in 2005 there.
Already set in place to build 16 new nuclear power reactors in Saudi Arabia by 2030, GE sees opportunities. Saudi Arabia already represents $2 billion / year for GE, but plans to triple its current $300 million investment in Saudi Arabia by 2015 as the Saudi economy is growing stronger (6% growth rate predicted for 2012 according to the IMF) and demand for GE's services are increasing. Thanks to petrol prices going up, the Kingdom's government set apart $500 billion to improve the economy, education, transportation and build hundreds of thousands of homes.
The company has already moved onto Libya after the country got rid of Moammar Gaddafi's regime. According to Habayeb, GE can offer the country everything in needs, from the development of oil and gas to offering the population clean and safe water, dependable power, a better healthcare system, and new transport systems. Just like GE took charge in Iraq, it is moving onto Libya and predicts that with huge infrastructure projects in the pipelines, it can mean anywhere from $6 to $10 billion in revenue in the next 3 to 4 years.
The MENA region isn't the only place where GE plans to sink its teeth into, though, with plans to expand in China and the rest of Asia-everything from energy to health care to aviation. According to Jeff Immelt, Chief Executive Officer, GE is already working on several joint ventures in China. The company is already enjoying a revenue growth of 20% / year, a figure that is expected to grow after a $2 billion commitment plan made in late 2012. Already the company is building an $80 million research facility in Chengdu and another 3 in other parts of the country.
Due to drops in revenue for the last several years in the U.S. (due mostly to the recession), the company is hoping to increase sales outside of the U.S. to 65% in the next 8 years (it's currently at 59%). China, Australia and Peru are the three countries that GE will be focusing on, in addition to the MENA region, and will account for half of the company's industrial revenue by 2020, according to John Roce, Vice Chairman of GE.
All these factors clearly indicate that room for growth is almost limitless for GE-where the sky really is its limit. Compared to main competitors Honeywell and United Technologies, the company is about 90% more active, spread across 10 industries and counting. There's no slowing this mega-giant down any time soon and the next few years will see huge increases in revenue thanks to internal market penetration and a hopefully more stable U.S. market in the next few years.
While no one can 100% predict success of any stock, it's almost too safe to say that GE is as safe a bet as it gets!
Disclosure: I have no positions in any stocks mentioned, and no plans to initiate any positions within the next 72 hours.