Wynn Resorts (NASDAQ:WYNN) has long been considered a best-of-breed of gaming stock. Since the depths of the financial crisis (and probably even before) this stock has been the safe-haven of the sector. Rightfully so, when you take into account how Steve Wynn managed the financial crisis. He never took his company to the brink of bankruptcy like MGM Resorts (NYSE:MGM) or Las Vegas Sands (NYSE:LVS) did. WYNN traditionally pays out a quarterly dividend, which currently sits at around a 2% yield, and quite often pays out a special dividend ($5 in 2011, $8 in 2010). The company boasts a nice balance sheet and is pretty safe, but is it the best bet going forward?
No Near Term Macau Catalyst
WYNN's next casino in Macau won't be ready until 2015/2016, and no casino will come to market after LVS finishes opening Sands Cotai in 2013. So, from now until mid 2015 at the earliest, WYNN will be relatively stagnant in terms of additions and extra capacity. This is not good for a company that has been losing market share in the region consistently for the last 4 years. Here is a breakdown of WYNN's market share versus Macau gaming.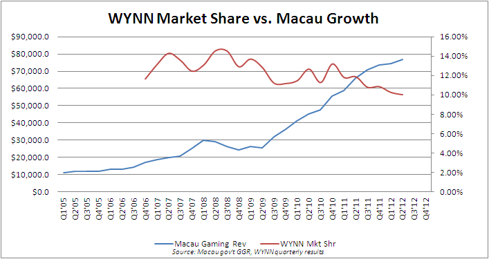 When you add into the fact that LVS is opening Sands Cotai this year and early next, one can speculate that WYNN's market share will further decline as a new resort generally takes share away from competitors. Right now, WYNN's share of Macau is approaching 10% and there are no signs that point to a reversal any time soon.
Leveraged to Macau V.I.P.
Last month Macau posted its slowest year over year growth since 2009 (7%). There is much to debate about this number, one thing I'll say is that it came off the back of an outlier month from May of 2011 and the rate of growth this year is still north of 20% through 5 months. It was the second highest gaming revenue month in history, so whether or not the market is slowing is another topic all of its own.
What is not debatable is the slowdown in VIP gaming. Considering the fact that WYNN traditionally gets 60% of its casino revenues from VIP players (although last quarter was only 55%), it does not bode well for the gaming giant. Adding to the fact that LVS' Sands Cotai is ramping up, it will give VIP players yet another destination to spend their money.
LVS on the other hand, which breaks down their revenue in their newest presentation, only gets 25% of total revenues from VIP segments; 50% of Macau revenue comes from the mass markets and the remainder is produced from MICE, shops, retail etc. This is a stark contrast to WYNN, and one that should not be overlooked. The growth in China is in the middle class, and LVS is best positioned to take advantage of that.
Anemic Revenue Growth
WYNN's revenue growth leaves a lot to be desired moving forward over the next 3-4 years. Until their new casino hits the market in 2015/2016, I am forecasting WYNN to only grow revenues in the single digit range. For a company that is trading 16x-17x earnings, this has all the makings of a range-bound price action to me. Even if you slap a 15x multiple on WYNN, they are still over valued for the next 3 years.
Here's a look at the breakdown (the spike in 2014 comes from flat lined market share, whereas in '12 and '13 they lose market share). I've assumed the following growth rates by region, through 2014:
Macau: 21%, 19%, 15%
Las Vegas: 4%, 4%, 3%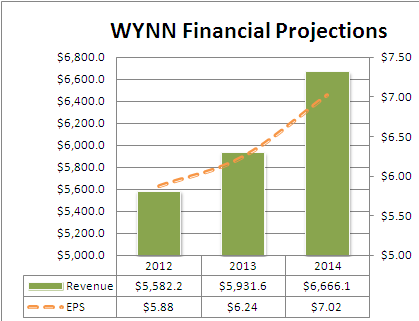 WYNN is currently trading nearly 18x earnings and is forecast to grow revenue 5.5% the next 2 years, and 10-12% in 2014. If they complete their casino in 2015 it'll have a slight uptick on the back of increased market share. By that time, Macau won't be growing at 20-25% and the market will be a lot more mature.
After earning $5.58 in 2011, and projected to earn $9.67 in 2016, that's an annualized growth rate of around 14.5%. When you factor in anemic growth for the next 3 years, and modest growth after that, it is clear to me that WYNN will underperform the gaming sector for the foreseeable future. Using my 14.5x compounded growth rate, WYNN is a sell at current levels. I am issuing the following price targets:
2012: $85.20
2013: $90.50
2014: $102.00
In Conclusion
This may seem extreme, but I believe WYNN should decouple from gaming stocks near term, specifically the new best-of-breed, Las Vegas Sands. I am not forecasting WYNN to completely fall apart (unless Europe/China blow up), but I just do not see the upside. Why pay now for growth that will not come until 2016? The stock should be range-bound between current levels somewhere around $100-$110 down to $70-$80 on the low end of the range.
WYNN has been the best-in-breed casino stock for the last 3 years and investors are still associating it with that tag. It will take time for that to wade off. Unless you are expecting WYNN to just get carried up with the rest of gaming stocks, I would look to enter Las Vegas Sands as the play in casinos over the next 3 years. WYNN will have its day again, sadly, it won't come for another 3-4 years.
Disclosure: I am long LVS.