What happens when both conventional and unconventional wisdom suggest taking a more global perspective on an economic segment? You might find yourself considering the iShares S&P Global Healthcare Index Fund (NYSEARCA:IXJ).
IXJ has a decidedly large-cap tilt. While 75% may be allocated to worldwide pharma, an area that has been roughed up by legislation and/or patent protection, 25% is allotted to those who focus on supplies, services and devices.
Perhaps the most attractive features of IXJ include the following: (a) it is 1/3 less volatile than the S&P 500, (b) there's exposure to Switzerland, England and France, (c) its 5-year returns are within a few percentage points of the broader S&P 500… with a lot less risk.
There are other benefits of looking this direction. Specifically, health care has been out of favor compared to other sectors (e.g., tech, energy, materials, utilities, industrials, etc.) for quite some time. A basic rotation approach might make this a good time for long-term investors with a baby boomer bias to pick up some shares of IXJ.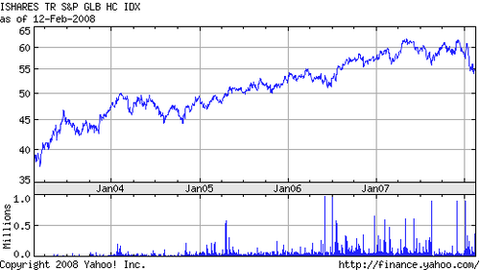 Of course, new drug development by biotechnology firms has the albatross of a lengthy FDA approval process here in the States. Moreover, the ramifications of a universal health care system could damage the profitability of health care insurers who would be mandated to insure everybody.
Again, however, the global nature of IXJ would work to minimize some of U.S. government intervention and price controls. What's more, IXJ does feature a smattering of service providers, device makers and health product suppliers.
The population of the globe is indeed aging. And the need for health care products/services is definitely expanding. It follows that an allocation to IXJ could be a good idea.
Those who may feel that the broader health care segment will find itself too regulated might wish to look at sub-segments. I've mentioned them in previous features.
The iShares Medical Devices Index Fund (NYSEARCA:IHI). The investment seeks investment results that correspond to the Dow Jones U.S. Select Medical Equipment index. This incorporates both the manufacturers and the distributors of items like scanners, prosthetics, X-Ray machinery and MRI technology.
The HealthShares Diagnostics Fund (HHD) invests in life sciences, biotechnology or healthcare-related enterprises that are engaged in the identification of the existence and extent of a disease, the visual localization of a disease, the selection of therapeutic agents for a disease and the monitoring of disease progression. In essence, "diagnosis" is "disease management" from onset to vigilance.