I have an investment theory that I would like to float with people.
The basic premise is that the ultra-wealthy among us do not ever endure recessions. While people are busy making a fuss about the great recession, the "one-percenters" are busy living the same lives that they have always been living. Really, what is the difference between having $150 million and $100 million? One less multimillion-dollar vacation house a year?
CNBC has been doing a fascinating series of articles on high-net-worth individuals. I encourage anyone interested in this subject to check them out. They are very well written and equally enlightening. They have articles about all sorts of interesting topics relating to high net worth individuals. Some of the most interesting to me are an article about rich people changing citizenship, an article about the image of premium brands in China, and an article about the complexities of stashing fine art in tax free ports.
Anyway, back to my original point. What all three of these articles have in common, and indeed anyone who is a legitimate one-percenter, is that they will always have money to spend on unnecessary luxury goods. While the world is going through the European debt crisis and all of these other things, the wealthy are worried about tax havens, which brands are the most exclusive, and where they can find good places to put their fine art.
So which public companies potentially fit the bill of 1% investing?
Hermes (OTCPK:HESAF)
From another High Net Worth article on CNBC:
Hermes, the maker of leather goods and accessories, reported 17 percent growth for the first quarter of 2012 on its home turf in Europe.
The article on China also had some good information on Hermes:
Some prefer Hermes because our products are more subtle and not over exposed," the brand's China president, Leo Liu, told Reuters in an emailed statement.

For Gao Jie, 27, a public relations employee who routinely buys luxury goods, Hermes is the ultimate status symbol: their bags are handmade, come in limited quantities, cost anything between $9,000 to $150,000 and are generally not within the reach of the general public.
I did not even know that Hermes made luxury bags. I just thought they made ties. The fact that they are a super-duper high-end exclusive brand that can sell luxury bags for up to $150,000 is exactly what I am looking for in a 1% company.
What else is there to know about Hermes?
The company unfortunately currently trades at a P/E of 45 and a share price of 257 (price may be in Euros, apologies, difficult to find accurate information, I've looked pretty hard) which is close to its 52 week high. I have this stock on my watch list and if it happens to suffer a significant dip it may be worth adding, though I am a bit hesitant given the high valuation.
A much more conservative play is Louis Vuitton (OTCPK:LVMHF).
Louis Vuitton is way more than just the manufacturer of the namesake handbags. As the ticker suggests, Louis Vuitton Moet Hennessey is a company that in addition to bags manufactures Moet & Chandon Champagne along with Hennessy cognac. They manage many other luxury brands as well, including: Bulgari, Marc Jacobs, Thomas Pink, Belvedere (my favorite brand of Vodka), Pafums Christian Dior, TAG Heuer, and also own a stake in Hermes.
The most recent letter to shareholders is very encouraging - here is a little excerpt: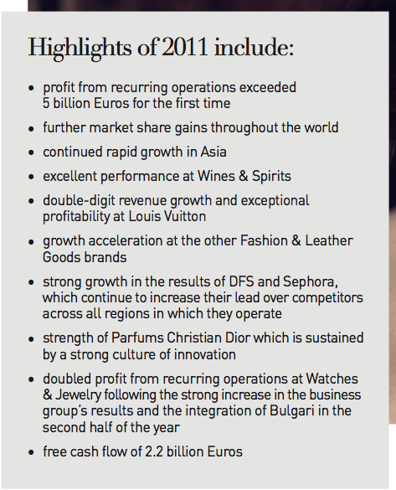 Click to enlarge
Louis Vuitton trades at a pretty reasonable P/E of 19 versus an industry average of 15, and the stock has been a bit down of late. Could be a good time to jump in! They also pay a dividend which the company has been steadily increasing the last few years as an added bonus/incentive.
Here are some more potential companies for you to look at if you are interested in 1% investing:
True Religion (NASDAQ:TRLG), a maker of high end jeans that can cost $500 or more. This stock has a market cap of $750 million, a P/E of 16, and has a lot of bullish sentiment on the Motley Fool:
Here is what marketprofile01 had to say:
Over the past 5 years, TRLG has generated strong profits with money shareholders have invested. This is considered one of the best indicators of quality management.TRLG has created positive free cash flow for 7 or 8 of the past 10 years.TRLG has more Cash than its Total Liabilities, resulting in $5.58 Net Cash per share. In other words, if you buy TRLG today, the price you're paying for shares is actually $20.56 because $5.58 of Cash is included in the current share price. $54.57 of every $100 worth of sales have been Gross Profit, on average over the past 10 years.
Could be worth a second look, I've had this stock on my watch list and seen it as low as $24/share recently.
Potential drawbacks: True Religion is heavily dependent on the cotton industry with which I know zero about. I also haven't done that much field research asking my female friends what they think of the brand! Any opinions on this are appreciated.
Burberry (OTCPK:BURBY)
Burberry Group plc is a holding company. It is a global luxury goods manufacturer, wholesaler and retailer. The Company designs, sources, and markets luxury men's, women's and children's clothing and non-apparel accessories globally through a diversified network of retail, wholesale, franchise and digital commerce channels worldwide. It also licenses third parties to manufacture and distribute products using the Burberry trademarks.
The company carries a P/E of 24, and I admittedly do not know much else about them, other than I really like their unique designs and that they seem to have a very solid brand. There have been no articles written about Burberry in the last 2 years on Seeking Alpha, though Veronique Adam was quite bullish 2 years ago. I am a firm believer that there is potential value in stocks that are underfollowed. Could be worth another look.
Some other companies potentially worth checking out are:
Vera Bradley (NASDAQ:VRA), on which Chris Katje is bullish and recommends picking up shares at an all time low; Coach (NYSE:COH); Gucci (OTC:GUCG); Tiffany's (NYSE:TIF), which recently kicked down a bit, could it be a good time to buy in); and Ralph Lauren (NYSE:RL).
1% investing is the antithesis of investing in inferior good stores like Family Dollar (NYSE:FDO) or Wal-Mart (NYSE:WMT). While these are great companies, they are always engaged in a race to the bottom. 1% companies, if succesful, enjoy a race to the top. Meaning that if your brand is currently "in," like Hermes in China, you can charge more for your products, due to brand cachet.
Those of the 1% do not care about the difference between 3- and 4-dollar gas. They are more worried about which designer bag they want to drop thousands on, or where they can stash their fine art safely. No matter what is happening on the news, there are still going to be high-net-worth individuals looking to spend their money. With 1% investing, you can potentially profit off of the 1%'s taste for luxury.
Disclosure: I have no positions in any stocks mentioned, and no plans to initiate any positions within the next 72 hours.