The generic drug boom is expected to start in 2012, due to the patent cliff effect. National drug retailers are poised to gain from this influx, as will related exchange-traded funds. About $100 billion in brand name drugs are set to have their patents expire between now and 2015.
"We think earnings of drug retailers will increasingly benefit as the tidal wave of new generic drugs begins to come onshore in 2012," Joseph Agnese, S&P Capital IQ analyst, said in a research note. "While generics are significantly lower in price than the branded drugs they replace, they contribute more to profits. We believe these increasing generic drug benefits will begin to be felt by retailers during the second quarter of 2012 following the loss of patent protection (November 2011) and generic exclusivity (May 2012) for Lipitor. Additionally, we estimate nearly $30 billion in branded drugs will lose patent protection in all of 2012."
The Market Vectors Retail ETF (NYSEARCA:RTH) has received an overweight rating from S&P Capital IQ. The retail drugstore industry has an 11% weighting in RTH, with CVS (NYSE:CVS) accounting for 6.3% and Walgreen (WAG) at 4.6%. These two companies also have growth opportunities, according to S&P Capital IQ.
RTH has been able to hold up despite the market volatility, and has lost about 3% over the past month. There are other companies within the index that can help investors take advantage of the shift toward generic drugs. Both Wal-Mart (NYSE:WMT) and Target (NYSE:TGT) are represented at 13.3% and 5.1%, respectively.
Market Vectors Retail ETF
Click to enlarge image.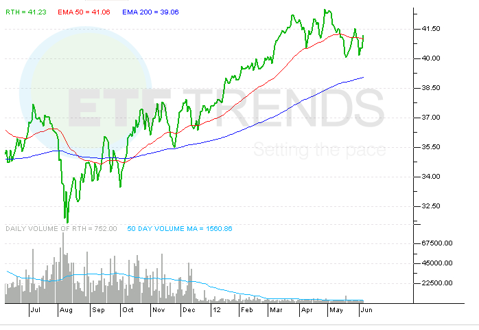 Click to enlarge
Tisha Guerrero contributed to this article.
Disclosure: I have no positions in any stocks mentioned, and no plans to initiate any positions within the next 72 hours.