Arris Group (NASDAQ:ARRS) shares are sharply lower in after hours trading after the cable equipment provider reported disappointing fourth quarter results and first quarter guidance that was sell short of expectations.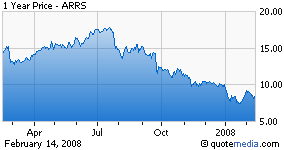 For Q4, Arris reported revenue of $249.6 million and non-GAAP EPS of 16 cents; the Street had been looking for $260.8 million and 22 cents. The company said the weak revenue was mostly due to lower sales of E-MTAs, or embedded multimedia terminal adapters. The earnings miss also reflected lower margins and the dilutive effects of the company's C-Cor acquisition.
For Q1, the company sees revenue of $270 million to $285 million, with pro forma EPS of 8-12 cents a share, well below the Street consensus estimate of $329.4 million and 19 cents. The company said that while it sees "robust demand from the majority" of its customers, sales to its largest customer - Comcast (NASDAQ:CMCSA), I believe - "will be lower."
In after hours, trading, Arris is down $1.65, or 20.9%, at $6.26; the stock had dropped 46 cents in the regular session.