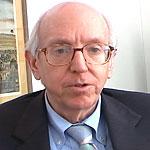 For those who cover technology the patent wars have been painful to watch. Rather than compete in the market, big companies have sought to drive one another out through patents on software many observers feel should never have been granted.
But those days are ending. Google (NASDAQ:GOOG) is the immediate beneficiary. But technology markets are the big winners. As Roger Cheng of CNET notes today, "I'm sure you're as tired of reading lawsuit stories as I am of writing them."
The man Cheng thanks is Richard Posner. (Picture from Wikipedia.)
Posner, the great conservative legal light of the last century, the Learned Hand of our time, a lawyer whose mind was too big for the Supreme Court, has looked at all the evidence in the latest "patent war" between Apple and Google, and tossed it.
"Neither party has a right to relief" he wrote, in a brief note sent before he gets down to the task of really laying into both sets of lawyers over the next week.
Apple (NASDAQ:AAPL) had claimed Motorola, now part of Google, was violating four of its patents in Android, and Motorola (now Google) answered with a patent claim of its own. The jihad was reportedly begun by the late Steve Jobs, who insisted that Google had ripped off his iPhone design.
But over the course of months Posner whittled the four claimed violations of Apple patents down to two, and by the end he could find neither a valid claim for damages nor an injunction.
The Wall Street Journal wrote that the case was ended based on "judge's annoyance" but that's faint praise.
Posner's position in the law makes this a very big deal. Posner is a retired appellate judge, not a trial judge. He is a jurist other jurists listen to carefully. Posner listened to these folks, and read their briefs, for months. His opinion matters, a great deal.
And what he's basically said is that all this patent litigation is but a picking of nits, that it's a waste of time.
Posner's "c'mon man" is going to resonate. This is positive news for Google , and negative news for Apple , although both will get over it.
Patent peace in our time will be very, very positive for all technology stocks, especially those on the leading edge, going forward. Imagine letting the market decide winners and losers instead of the government.