By Joey Vazquez
We continue our search for the most attractive companies to buy and sell right now. The markets started the day off slow, but have picked up the pace throughout the trading session. June has definitely been a better month than May at this point, but we are not out of the woods yet. Today, I strive to find attractive companies with strong or weak fundamentals and technicals that will outperform or underperform the markets. Should you buy or sell these companies?
(Click charts to enlarge)
Scripps Networks Interactive Inc. (NYSE:SNI)
Scripps Networks Interactive has been one of the most solid stocks this year, already up over 30% for the year. Today, the brokerage firm Wunderlich reiterated its Buy recommendation on SNI and upgraded its price target to $60. We saw SNI test its pivot point as support and it bounced off it and is now making new 52-week highs. Its chart is indicating that the best is yet to come as its MACD just crossed over its signal line. Its OBV indicator is continuing higher, indicating the positive is flowing in the stock.
Trade Idea: Go long SNI
Entry range: 56.25 - 56.50
Targets: 56.91, 57.47
Stop loss: 55.22
Our Entry: 56.35
Bemis Co. Inc. (NYSE:BMS)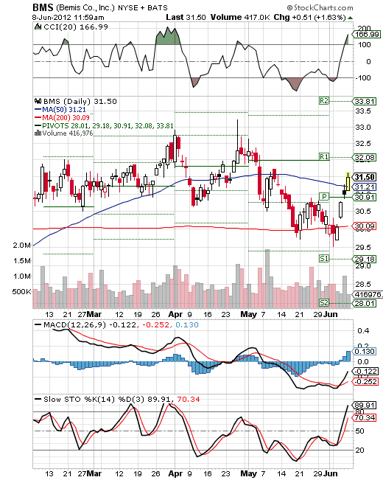 Bemis has been on the breakout these last couple of trading sessions and it was rewarded with an upgrade today. Bank of America Corp (NYSE:BAC) upgraded BMS to Buy from Underperform. BMS was experiencing heavy selling pressure but its support at its 200-day MA proved to be stronger. BMS re-took its pivot point and 50-day MA on its bounce back up, creating important support lines. BMS MACD indicator crossed over its signal line after bouncing from its 200-day MA and is looking to continue higher. Its CCI indicator just entered the +100 area; stochastics are also racing upwards, confirming our bullishness.
Trade Idea: Go long BMS
Entry range: 31.47-31.63
Targets: 31.82, 32.13
Stop loss: 30.87
Our Entry: 31.50
Helmerich & Payne Inc. (NYSE:HP)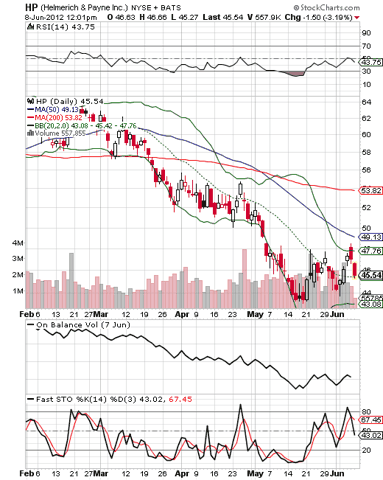 On June 5, Zacks Investment research maintained its Neutral recommendation on Helmerich & Payne, mainly for its soft second-quarter results. The energy sector continues to be very weak and especially drilling companies like Pioneer Drilling co. (PDC), Nabor Industries ltd. (NYSE:NBR) and HP. As oil prices remain weak, oil companies are going to struggle. HP recently tried to rally but bounced off resistance from its top BB. Confirming our bearishness is HP's stochastics, already turned and headed lower. HP OBV indicator is in a strong downward channel indicating the buyers are slowly but surely leaving the stock.
Trade Idea: Go short HP
Entry range: 46.05 - 45.80
Targets: 45.49, 45.03
Stop loss: 46.87
Our Entry: 45.95
National Oilwell Varco Inc. (NYSE:NOV)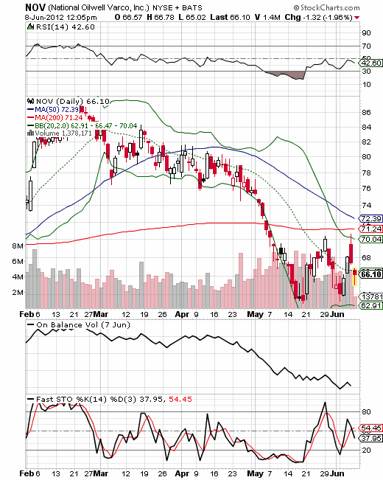 National Oilwell Varco agreed to acquire CE Franklin (CFK) on May 30, to give NOV a supplier of similar products based out of Canada. The news might have been significant but investors were not impressed and the stock remains weak. Additionally, with energy prices continuing to remain weak, it gives a bearish edge to NOV. NOV recently tried to break through its top BB, but it proved to be too strong and bounced right back downward. We also see a looming death cross waiting to form on NOV chart, that indicator by itself would be very bearish. Its OBV indicator looks to be headed lower, showing no positive momentum in sight. NOV stochastics have already turned and are headed south confirming our bearishness.
Trade Idea: Go short NOV
Entry range: 66.35 - 66.70
Targets: 65.79, 65.12
Stop loss: 67.78
Our Entry: 66.45
Disclosure:
I have no positions in any stocks mentioned, and no plans to initiate any positions within the next 72 hours.