Shares of online review company Yelp (NYSE:YELP) surged on Friday without any major news. This move comes after YELP had rallied strongly on both Wednesday and Thursday.
Click to enlarge images.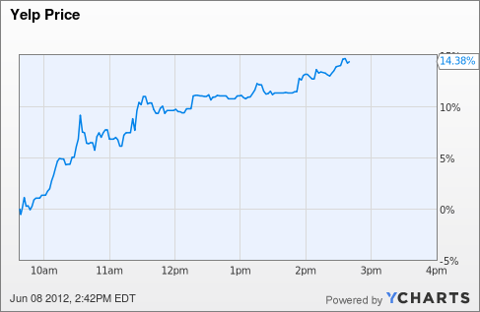 Oversold
Prior to the move this week, YELP shares had been down nearly 50% from their all-time high reached in late March. Part of Friday's move is likely related to how oversold YELP had become.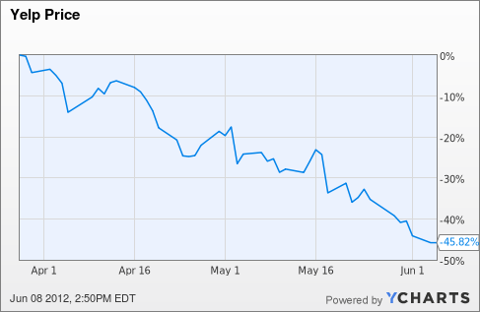 Facebook Rally
Another possible reason for the strength in YELP is the move higher in Facebook (NASDAQ:FB). The move lower in FB since the IPO has had an adverse effect on almost all social media plays, including Zynga (NASDAQ:ZNGA), Renren (NYSE:RENN), LinkedIn (NYSE:LNKD), and YELP. The move higher in FB on Friday could be playing a role in the move higher in YELP, as investors are possibly warming up to social media stocks.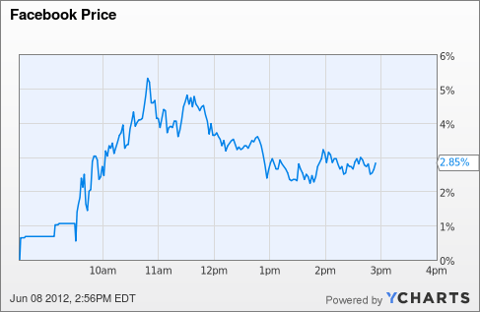 Short Interest
Short interest in YELP currently stands at 2.4 million shares, or 16.3% of the float. It is likely that a part of the rally in YELP is short covering.
My Take
I would use the rally to sell YELP for a couple of reasons. First, and most importantly, I tend to agree with the negative thesis about YELP's business model outlined here. Second, the lockup in YELP will end in August, which will lead to a major increase in the number of shares of YELP that are trading. The end of lockups in other social media stocks, such as Zynga and Groupon (NASDAQ:GRPN), has led to major declines. I believe YELP likely faces a similar fate later in 2012.
Disclosure: I have no positions in any stocks mentioned, and no plans to initiate any positions within the next 72 hours.