Although sometimes "it's not rocket science," with American Pacific Corp. (Nasdaq: APFC), a leading manufacturer of specialty and fine chemicals, it really is.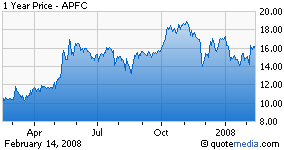 AMPAC is the exclusive North American provider of Grade I ammonium perchlorate, the predominant oxidizing agent for solid-fuel rockets, booster motors and missiles used in space exploration, commercial satellite transportation and national defense programs.
Being a monopolist in the Grade I ammonium perchlorate (which accounts for 28% of revenue) niche provides an enviable economic mote, as does being an oligopolistic in other markets. AMPAC is one of two North American manufacturers of mono-propellant and bi-propellant propulsion systems and thrusters for satellites and launch vehicles, and is one of the world's major producers of bi-propellant thrusters for satellites.
AMPAC's other significant segment, the more comprehensible fine chemicals, isn't shielded from competition to the extent of specialty chemicals, but it still enjoys barriers to entry because of FDA standards and edicts. The segment manufactures active pharmaceutical ingredients used in drugs for indications in areas such as anti-viral, oncology, and central nervous system; registered intermediates; and HIV-related and influenza-combating drugs.
Not unlike a Russian/American space rendezvous, the segments complement each other: Specialty chemicals typically has higher operating margins than fine chemicals, 32% compared to 16%, but fine chemicals is the growth engine, having increased to 57% of the business in the first quarter of fiscal year 2008, ended Dec. 31, 2007, up from nothing in FY2005. Together they rocketed revenue up to $46.9 million in the first quarter, up 34% from $34.9 million one year ago. Net income in the first quarter soared 383% to $2.9 million, or $0.38 per diluted share, up from $0.6 million, or $0.09 per diluted share, in the year ago period.
AMPAC is unlikely to return to earth anytime soon. Commenting on the 2008 outlook, management said (in a press release):
Our fiscal 2008 first quarter results were consistent with our expectation for the quarter. Accordingly, we are maintaining our guidance for fiscal 2008. For fiscal 2008, we are anticipating consolidated revenues of at least $195 million, adjusted EBITDA of at least $40 million and net income of at least $6 million.
Most of 2008's growth will come courtesy of fine chemicals, which is being driven by strong demand for products that fall into AMPAC's wheelhouse — HIV-related drugs and anti-cancer drugs. Demand should be further bolstered by the trend toward more outsourcing by the larger pharmaceutical companies.
That's not to say that specialty chemicals have been relegated to Sputnik status. Demand for Grade I ammonium perchlorate should remain consistent based on current U.S. Department of Defense production programs. Moreover, AP demand could spike if space shuttle flights increase before the fleet is retired in 2010, or if there is a ramp up in the development of several contemplated programs under the United States' proposed long-term human and robotic program to explore the solar system.
But if additional government demand fails to materialize, private demand should fill the void. The commercial satellite industry is expecting steady growth over the next several years thanks to growing demand in broadband, HDTV and communications applications. At the very least, specialty chemicals should continue to provide AMPAC with a stable source of high-margin, dependable cash flow.
Developing macro events (i.e., recession) could also increase AMPAC's investment appeal. The specialty chemicals industry is expected to post sales gains via a combination of organic growth, acquisitions and currency translation through 2008 despite the prospects of the housing market crippling the broader economy. The industry has historically been immune to economic cyclical and to the supply and demand balances that impact other commodities; therefore, margins and earnings tend to be relatively stable, even during times of economic uncertainty.
Last year's economic outlook was certainly less opaque than this year's, to be sure: Everyone expected economic growth in the 3%-to-4% range, which is what occurred. What everyone didn't expect was for AMPAC's share price to shoot up 90%, leaving the S&P Specialty Chemicals Index sputtering on the launch pad in comparison.
What's more, it appears unlikely that AMPAC overshot its target. AMPAC's P/E ratio of 21.6 lags behind the chemical industry's average P/E of 34 and is only a slight premium compared to the S&P 500's average of 17.3. In another value metric, AMPAC's price-to-book ratio of 1.5 is nearly half that of the S&P 500's 2.8 and only a third of the industry average of 5.1.
Of course investing is about presaging the future, and valuing AMPAC on its prospects suggests it remains undervalued. Based on an expected 20% increase in EPS for FY2008 and continued growth at, what we consider to be a conservative, 7% through the remainder of the decade, we see intrinsic value approaching $20 a share, which leaves 30% for the upside.
In short, AMPAC (APFC) might no longer be the potential moonshot it was early last year, but it still has plenty of fuel to remain in orbit, which is saying a lot when considering the plunge back to earth of other sector satellites.
The stock closed at $15.86  yesterday, with shares ranging between $9.58 and $19.20 over the last 52 weeks.
Disclosure: none