Stocks in the chemicals sector have taken a drubbing since last year, lagging the S&P 500 (NYSEARCA:SPY) by 10% over a one-year time frame.
(click charts to enlarge. source: Google Finance)

Click to enlarge
While many view the downturn in the chemicals index as a cautionary sign of slowing economies overseas, I view it differently. I strongly believe that chemicals stocks are undervalued, have significant upside, and will outperform in the very near future. Consider the following mostly positive data sourced from a recent Zacks report:
Despite sluggish economies, the EU and America registered 1.6% and 2.1% annual increases in chemicals production respectively
Japan registered a decline in chemicals production of 3.1%, due mainly to the earthquake
Emerging economies is fueling massive chemicals sector growth: 4.7% for the year in South America and over 11% in Asia
Chemicals make up about 10% of American exports and are projected to expand to over $230B in 2014 (at $189B last year, experiencing 11% year-on-year growth)
In light of these facts, several chemicals stocks provide an attractive "buy the dip" opportunity.
1: E I DuPont De Nemours & Co (DD)

Click to enlarge
Due to the May downturn, DuPont is currently trading at a very attractive price, off 15% from the 52-week high. The dip is unjustified, because DuPont is aggressively positioning itself in several emerging markets with almost limitless room for expansion. Through various mergers and takeovers, most notably the Danisco deal and more recently the purchase of Pannar Seed Ltd, DuPont is applying its chemicals expertise to the enormous agribusiness industry. The focus is specifically on expanding agriculture in sub-Saharan Africa, an area that currently uses antiquated technologies. (Read: an area where expansion potential is almost limitless.) Combine these expansions [DuPont is now at twice the market share of Monsanto (NYSE:MON)] with the strong growth forecast for the chemicals industry, and DuPont is a recipe for investing success.
2: Celanese Corporation (CE)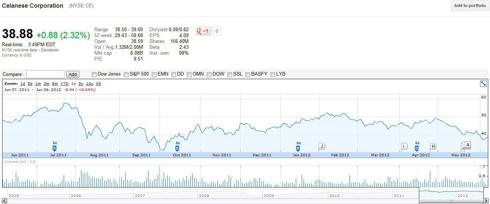 Click to enlarge
Celanese might just be the most underlooked Fortune 500 company out there. Stock is currently trading at a 35% discount to the 52-week high. Things Celanese has going for it:
growth forecasts in the chemicals sector as a whole (I feel the need to mention this ad nauseam)
Cost control measures and increased sales led to 29% higher sales in the past quarter
Strong presence in developing countries
very attractive P/E (about 9 at the time of this writing)
3: Air Products and Chemicals (APD)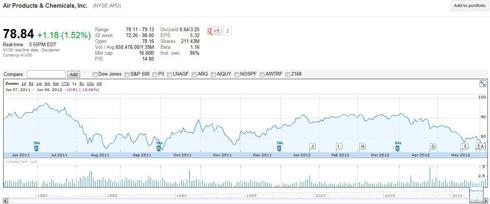 Click to enlarge
Air Products and Chemicals has a unique positioning in the chemicals sector, with a strong focus on hydrogen energy technology. Things they have going for them:
Conclusion: I'm High On Chemicals
Sorry for the bad pun. But in all seriousness, I believe that the chemicals sector is deeply undervalued and is poised for a very strong recovery very soon. Due to the sector growth potential, there are plenty more good chemicals companies out there -- to name one, The Dow Chemical Company (NYSE:DOW) -- but Celanese, Air Products, and DuPont are my personal favorites.
Disclosure: I am long all stocks mentioned via the Fidelity Select Materials fund (MUTF:FSDPX).