Sometimes the consensus doesn't live up to billing. Take EnCana Corp. (ECA), which reported a 63% profit increase in the fourth quarter, and doubled its dividend to C$0.40 on Thursday.
Bloomberg had cash flow and earnings consensus estimates at C$2.53 and C$1.31 per share, respectively. But EnCana's survey of 20 analysts had these numbers at C$2.67 and C$1.31, UBS analyst Andrew Potter points out.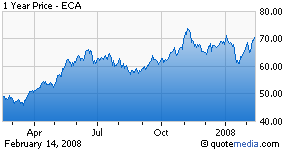 EnCana's results came in at C$2.56 (diluted) for cash flow, which was slightly ahead of his estimate of C$2.48. Mr. Potter attributes this to better-than-forecast U.S. gas prices realizations. Meanwhile, the company's earnings were C$1.12, versus his forecast of C$1.10 per share.
So investors will have to decide which consensus estimate, or both, they compare the results to.
UBS continues to rate EnCana a "buy" with a $83 price target.