Energy Transfer Partners (NYSE:ETP) historically has been a gatherer, processor and transporter of natural gas through its network of pipelines, processing and storage facilities. This business has allowed the company to pay a consistent if not growing distribution to investors. However, over the last year the company has made significant acquisitions and changes which could boost future distributions. By the end of 2012, Energy Transfer Partners will look more like an MLP of MLPs, holding a variety of revenue producing assets plus units of several other MLP companies.
Here is a listing of what Energy Transfer Partners has accomplished over the last year to transform its business:
The Sunoco deal is expected to close in the 2012 fourth quarter. There has been speculation that Energy Transfer Partners will sell off Sunoco's 4,900 service stations, which have been valued at $1.8 billion.
The one major question about Energy Transfer Partners is that the company has not increased - or decreased - the quarterly distribution rate since the beginning of 2008. It appears the units issued to fund acquisitions have caused the total number of units outstanding to increase at about the same rate as the increase in distributable cash flow. In 2011, the number of units outstanding at the end of the year was 10% higher than at the end of 2010. Distributable cash flow in 2011 was $1.14 billion, 8.8% higher than for 2010. The current 8.2% yield on Energy Transfer Partners is about right for an MLP with a steady but not increasing distribution rate. If the Sunoco acquisition can result in a cash flow increase greater than the unit count increase, hopefully the dividend will start to grow.
The general partner units and incentive distribution rights from Energy Transfer Partners are owned by Energy Transfer Equity. For investors looking for distribution growth, Energy Transfer Equity may be the better choice. ETE will be discussed in an upcoming article.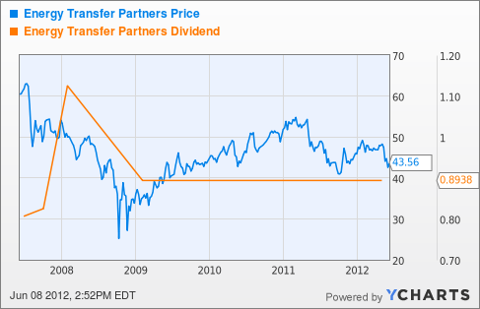 Disclosure: I have no positions in any stocks mentioned, and no plans to initiate any positions within the next 72 hours.