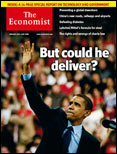 Bite-sized summaries of some of the most interesting and actionable stories from this week's The Economist:
The Americas
Exxon's wrathful tiger takes on Hugo Chavez.
ExxonMobil (NYSE:
XOM
) has won an injunction freezing $12 billion in assets of Venezuelan state oil company Petroleos de Venezuela [PDVSA] to ensure it will be able to pay compensation for the Exxon operations seized by President Hugo Chavez in Orinoco. ConocoPhillips (NYSE:
COP
) is shortly to submit a compensation demand much higher than Exxon's. The global economic slowdown makes higher oil prices less likely in the short term, and a fall in prices could severely affect both PDVSA and Chavez's government.
Middle East & Africa
South Africa: Tighten your belt.
Most analysts expect that the South African economy, which has grown an average 5% over the past four years, will slow to 3-4% this year.
Europe
Dangers ahead.
Europeans who have been content to praise their countries' resilience while America slides toward recession are increasingly forced to acknowledge that their own economies are weakening. GDP in the euro area rose by an annualized 1.6% in Q4, with Germany and France below the average. Ominously, declining growth in Europe appears to be the product of slumping domestic demand rather than a dry-up in exports. Europeans are anxious about rising oil and food prices and a slowing housing market. "It's as if consumers can sense an earthquake coming," says Julian Callow at Barclays Capital.
Eastern Europe's economies: Coming in to land. Eastern European countries appear to be headed for relatively soft landings, despite problems with inflation, low employment and slow growth. Slovakia, which has applied to adopt the euro in 2009, is on the strongest end of the spectrum, while Latvia is on the weakest. Hungary has the lowest growth and the highest inflation in the region. "If America has stagflation-lite, Hungary has stagflation-heavy," says Neil Shearing of Capital Economics.
Asia
Activist investors in Japan: Samurai v. shareholders.
The Japanese establishment finds the importunings of activist investors, most of whom are foreign, highly presumptuous. "To be blunt," says Takao Kitabata, vice-minister of the Ministry of Economy, Trade and Industry, "shareholders in general do not have the ability to run a company. They are fickle and irresponsible." Activist agitation will likely increase ahead of the June shareholder meetings, however. Foreign funds now hold almost 30% of Japanese shares, and the 25% drop in the Nikkei since last July has left some of them with paper losses.
Economics focus: From Mao to the mall. Chinese domestic demand is on the rise, which could offset the negative effects on the Chinese economy of an American recession. It could also have a global benefit: Chinese GDP growth is forecast to slow to 9-10% this year, but rising domestic consumption and investment could mean that China will contribute more to global demand this year than it did last year.
Business
Mobile telecoms: Small, but disruptive.
Advocates say femtocells, tiny versions of radio towers that are used in mobile-phone networks, could have the giant-killing effect in the wireless industry that PCs had on mainframes. Femtocells link to a home's broadband connection and provide users with strong indoor coverage. They also ease the infrastructure demands of network operators. They are expensive, though, and have problems with interference. Sprint (NYSE:
S
) is the only company currently selling the devices.
Face value: Mittalic magic. The success of ArcelorMittal (NYSE:MT) could face several challenges relatively soon. A Rio Tinto/BHP Billiton (RTP) (NYSE:BHP) merger would, if it comes to fruition, control a third of the iron-ore supply market, although ArcelorMittal expects to increase its in-house supplies to 75% from 50% over the next few years. A potentially greater threat is the growing efficiency of Chinese steelmakers, which are "protected and inefficient now" -- but "sooner or later rationalisation and greater technical skill will produce big [Chinese] firms that can make cheap steel."
Finance and Economics
The world economy: A stimulating notion.
The U.S. Congress just passed an economic stimulus package designed to encourage spending and head off a recession. The IMF, in a departure, is now advising other countries to construct similar plans. The Spanish and Irish governments might take discretionary fiscal steps, but other countries, including Germany, have ruled them out.
Asian budget finances: Poles apart. China (NYSEARCA:FXI) had a reported fiscal deficit of about 1% in 2007 and a public debt of 17% of GDP. India (NYSEARCA:INP), by contrast, had a reported deficit of 3.3% that the IMF says is probably closer to 7%. It also has public debt of about 75% of GDP. The Chinese government is thus in a much better position than the Indian to cushion the economy if demand drops.
Buttonwood: Hedge podge. Hedge funds have apparently not performed as badly as many people think they have during the current market turmoil; nor are they as risk-taking as they are perceived to be. Performance is difficult to judge, however, because hedge fund indices are not comprehensive, and survivorship bias tends to result in inflated return reports. The HFR index also misleads somewhat because it includes the returns of funds that are closed to new investors.
UBS and Credit Suisse: For richer, for even richer. Ironically, Credit Suisse (NYSE:CS) -- which just outperformed rival UBS (NYSE:UBS) -- did so in part by adopting and then excelling at a UBS strategy: the integration of private banking, investment banking and asset management.
======================================
Editor's note: Many of the countries and sectors mentioned in the summaries are accessible to U.S. investors through ETFs. Please see our ETF Selector for Broad International ETFs, Single Country Asia ETFs, ETNs and Closed-End Funds, Global Sector ETFs and much more.