Oh, to be a fly on the wall at this year's Mobile World Congress in Barcelona, ground zero for what's next in the cell phone market. It was also a good opportunity for Research In Motion Ltd. (RIMM) co-chief executive officer Jim Balsillie to have a private meeting with investors, hosted by Citigroup Global Market equity analyst Jim Suva.
Although none of us could be lucky to attend that meeting, in a research note to clients Mr. Suva wrote that RIM's Mr. Balsillie remains firmly optimistic of its growth, and sees no slowdown for its business.
And why not worry about about an impending global recession? Well, according to Mr. Suva:
The secular move toward mobile increased productivity & data communication outpaces economic slowdown and international growth for RIM is in its early stages. Less dependence on the financial services today versus five years ago makes for a different scenario as today consumer and international growth is more than offsetting financial services headwinds.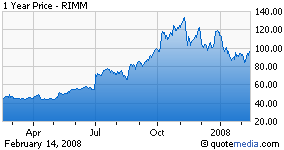 Looking down the road, RIM is poised to release a number of new features, both commercially and through its internal infrastructure, that carriers should be excited about, added Mr Suva.
Mr. Suva maintains a "buy" rating on RIM with a $140 price target.