Morningstar tracks 672 ETFs. Of those, the PowerShares DB Agriculture Fund (NYSEARCA:DBA) is the sixth-best performer over the last year (through Feb. 8), with a market return of 50.3%, compared with -5.1% for the S&P 500.
Commodities are one of the few asset classes that are negatively correlated with stocks and bonds, meaning they tend to zig when the market zags. Likewise, they tend to have a positive correlation with inflation, another apparent plus these days.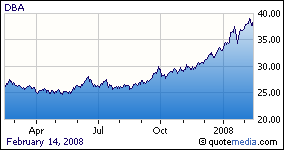 DBA offers exposure to agricultural commodities by investing in futures contracts of wheat, sugar, soybeans and corn. Prices for all four commodities are sky-high. Wheat prices have more than doubled in the past year and hit another all-time record on Feb. 11, after the Department of Agriculture forecast a dip in supplies to a 60-year low.
Soybeans and corn have also reached records recently. Soybean futures prices are nearly double their 2007 average, and corn, which has averaged about $2.50 per bushel in recent years, is now above $5. Sugar, meanwhile, is up 14.4% year to date.
The reasons for the run-up are broad but straightforward: Demand from China, India and other markets is up because rising incomes and improving diets mean more need for animal feed. Biofuel regulations and initiatives in the U.S. and the E.U. have increased demand for corn—one-fifth of the world's corn now goes to ethanol production—and other grains. Even sugar benefits, because Brazil uses that crop for ethanol.
Meanwhile, supply is down, thanks to worldwide challenges to food production, which are often related to weather conditions such as drought. Finally, speculators drove prices up in expectation of a supply dip.
All that, combined with high energy prices, a weak dollar and worries about a U.S. or global slowdown—signs that generally help commodities—built a perfect storm for DBA, even as oil and gold prices backed off records.
The fund again and again posted all-time highs in recent weeks and months, grabbing the top spot in its first two weeks in our PowerShares Momentum Tracker rankings, as the top performer for both year-to-date and one-year returns.
Like the other PowerShares DB funds, DBA uses the PowerShares/Deutsche Bank 'Optimum Yield' model, which attempts to maximize returns. Commodity investors generate returns in three ways: through gains in the spot price of the commodities; through 'collateral income,' or interest earned by buying futures on margin and investing the extra cash; and through 'roll yield,' or the price difference between futures contracts when the fund rolls one expiring contract into another.
It's through roll yield that PowerShares funds purport to have an advantage, through the 'Optimum Yield' formula. Futures markets are said to be in 'backwardation' when longer-term contracts are cheaper than the spot price of the commodity. When that occurs, the fund can generate a positive roll yield by selling the more expensive, expiring contract and replacing it with a cheaper one.
Likewise, DBA and commodity investors can lose money when, say, a 120-day contract for wheat costs more than an expiring contract. Greg Collett, chief operating officer of DB Commodity Services, recently said that with the 'Optimum Yield' system—which allows flexibility to choose from several different maturity dates—"the formula can pick a new contract expiring from one month to a year out to mitigate contango or take advantage of backwardation."
Investors here should remember that DBA and all commodities are risky places to invest. Though this ETF's short history has offered nothing but positives—the fund is up approximately 52% since its Jan. 5, 2007, inception—PowerShares offers data on its index back to 1998. In 10 calendar years, the index has gained or lost more than 10% nine times, including dips of 25.2% (1998), 15.6% (1999) and 17.8% (2000).
Performance has been impressive recently, with a five-year annualized gain of 14.9% through the end of 2007 that beat the S&P 500, the Dow Jones Agriculture Index and the Lehman U.S. Treasury 20+ Index (bonds), but as Morningstar's Karen Dolan points out in reference to the broader PowerShares DB Commodity Index Tracking Fund, the recent strong streak heightens "our worry that we're closer to a peak than a trough."
That's a tough thing to forecast, although an unexpected upturn in economic growth, or even a short-term rally in stocks, could cause the kind of shockwaves that make commodities wallow during bull markets.
That said, DBA has a lot going for it, both in terms of recent performance and short- and long-term trends, including inflationary pressures and recession fears, as well as population growth and the rise of the third world.
More important, commodities, especially those in the agricultural sector, can offer a real haven when economic times are tough and stocks struggle.
As a small slice of a diversified portfolio, DBA can provide diversification for investors willing to deal with its volatility.