Comcast (CMCSA), the cable television and internet provider is generally a company that is loathed by most consumers. For Comcast customers, it is easy to forget about them when their services are working, but it is when service is interrupted that many form unpleasant opinions on the giant.
From personal experience, somehow or another you will inevitably become entangled in a web of customer service people that read from a script of predetermined solutions until finally you reach someone who can operate independently of the script. Comcast is a great example of a company that is easy to hate, but a stock that is very attractive. Some would postulate that the fortunes of a company and its stock are inexorably linked, but as a fundamental research shop we see an opportunity where the two perceptions diverge.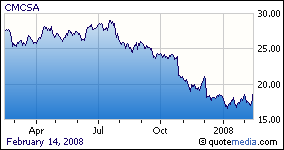 The catalyst for Comcast's great performance Thursday was that the country's largest cable provider reported that fourth quarter profits increased 54% aided by an increase in consumer spending for cable TV services.
There is more good news as Comcast reinstated its quarterly dividend and also reaffirmed its intent to buy back nearly $7 billion worth of shares. Comcast will not be entertaining rumors of merging with either Yahoo (YHOO) or Sprint (S), and will instead focus on building on its existing cable TV, high speed internet, and phone platforms. Sales in each of those segments increased; cable TV increased 6%, internet revenues increased 14%, and the relatively new phone service saw revenue gains of 73%.
Comcast is facing increased competition for consumer dollars as the economic slowdown churns on, but the services that Comcast provides should be resistant to an economic downturn. Furthermore, in many areas Comcast has a monopoly on cable TV with the only other option being satellite. So, Comcast has forecast revenue and operating cash flow growth in the range of 8-10%.
This would be strong growth for a company that is currently (using a price of $18.55) selling at a discount of 22% to the low end of the normal range for price-to-sales, and a 32% discount to the low end of the normal range for price-to-cash flow. Given the undervalued nature of this stock, Ockham has placed a rational price target on Comcast of about $32 per share.
Disclosure: None