Baidu (NASDAQ:BIDU) recently launched its custom cloud ROM that allows Google (NASDAQ:GOOG) Android users to swap core Android applications with Baidu apps, such as news, map, photos, MP3, web directory and GPS. In addition, users can also use Baidu's other service offerings such as smart voice recognition, data monitoring, cloud storage, data synchronization and battery conservation mode.
In my view, Baidu's cloud ROM allows the company to:
Deliver a more personalized mobile experience to the current Android users while resulting in low switching cost
Penetrate multiple Android-based devices and broaden the user base.
Enhance Baidu's image as the leader in mobile service and cloud-based services
Pave the way for future ROM that allow the company to move beyond Android and target iOS and Windows phone users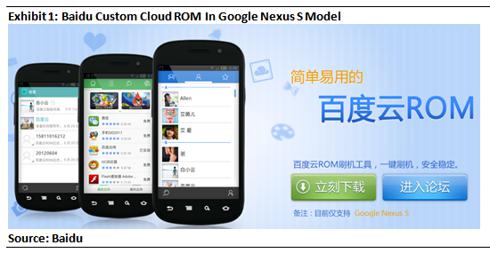 Click to enlarge
Personalization Is Going Mobile
Compared to Android, Baidu delivers more mobile apps that are relevant to the Chinese users. For example, Baidu's mapping service, cloud storage, web directory and MP3 services are all widely used by Chinese users, aside from its flagship search service. However, Android users in China are unable to use Baidu's services that are critical to their mobile internet experience because Android does not support the apps.
Baidu's ROM directly addresses this weakness by allowing users to customize its Android-based device by replacing core Android apps, such as the ineffective map and search function with Baidu's own lineup of core applications while keeping the majority of Android's platform intact. This level of personalization result in superior user experience and incremental stickiness as users gradually become increasingly dependent on Baidu's cloud products and services in their daily activities.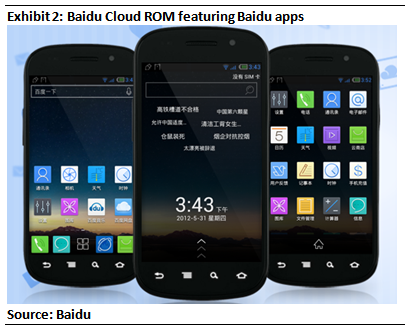 Given that users can enjoy core Baidu apps while retaining majority of Android features, and that installation process involving "sideloading" is fairly simple, I expect switching cost from Android to Baidu ROM to be low.
The Clones War Continues
Baidu's Cloud ROM takes the Android clones war to a whole new level in that the company could gain direct access into Google's Android devices. While the ROM is currently limited to the Nexus S model, I believe that Baidu will likely to roll out additional ROMs to support multiple Android versions that operate a majority of smartphones in China.
According to market research firm Canalys, China accounts for over 25% of worldwide Android shipment and Android accounts for over 66% of smartphones sold in China during the first quarter. While I do not believe that Baidu will overtake Android as the dominant mobile OS in China, its superior products and services could make it a relevant player as user adoption begins to ramp up.
iOS And Windows Phone In the Crosshair
A critical component of the mobile search strategy is to maximum the number of entry points for the users to build user traffic and engagement that result in a formidable network effect. For example, a search engine is useless without a browser or a data-enabled mobile device. Hence Google introduced Android OS as a free platform to promote its adoption and to lay the foundation of its mobile search traffic. In my view, the objective of Baidu ROM is not to completely revamp Android but rather to establish various entry points so that the generated user and search traffic can have material contribution towards its mobile search revenue.
Having established a platform that allow users to embed Baidu apps into Android devices, Baidu will likely roll out similar ROM to target iOS and Windows phone because neither platform supports Baidu apps. While it was encouraging to see Apple (NASDAQ:AAPL) to partner with Baidu by incorporating Baidu's search bar in its Safari browser, I would like to note that Baidu is still ultimately at the mercy of Apple, therefore it is critical for the company to introduce a ROM that allow iOS users to personalize their iPhone with the relevant Baidu apps while retain the reliability of Apple product.
Road To Victory Will Be Challenging
While Baidu's ROM will likely be the users' preferred platform due to its superior search functions and services, I would like to note that competition is also fierce in the ROM space. Two months ago, rival Tencent (OTCPK:TCEHY) also launched their own version of ROM targeted towards Android 4.0 devices.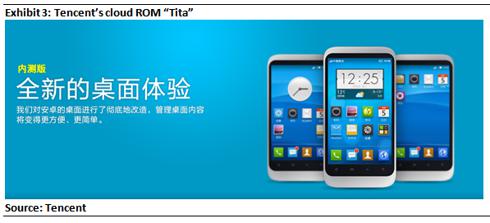 Click to enlarge
Disclosure: I have no positions in any stocks mentioned, and no plans to initiate any positions within the next 72 hours.