MedcoHealth Solutions
(NYSE:
MHS
) is expected to report Q4 earnings with a conference call scheduled Tuesday, February 19 at 8:30 a.m. ET.
Guidance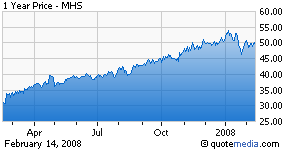 Analysts are looking for a profit of 41c on revenue of $11.47B. The consensus range is 39c to 47c for EPS, and revenue of $10.88B to $12.01B, according to First Call. As a prescription benefits manager, PBM, MedcoHealth profits when blockbuster drugs go generic. When Wyeth (
WYE
) announced the launch of a generic version of Protonix, MedcoHealth shares jumped.
Analyst Views
Morgan Stanley
sees slowing earnings growth from retirees and believes UnitedHealth (NYSE:
UNH
) could take business in house.
UBS
downgraded the stock to Neutral from Buy citing a slowing generic pipeline and limited earnings upside.
Banc of America
reiterated its Buy rating saying the company is poised to report strong results for this quarter.