Navistar International Corporation (NYSE:NAV) is a holding company whose subsidiaries and affiliates produce International brand commercial and military trucks, MaxxForce brand diesel engines, IC Bus brand school and commercial buses, Monaco RV brands of recreational vehicles, and Workhorse brand chassis for motor homes and step vans.
The company is also a private-label designer and manufacturer of diesel engines for the pickup truck, van and SUV markets. While it also provides truck and diesel engine service parts, another affiliate offers financing services.
Cick to enlarge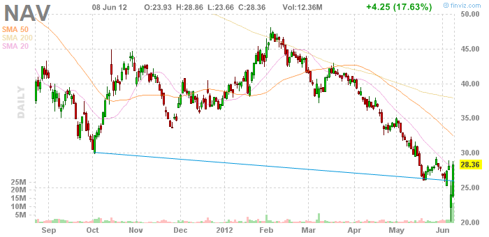 I see at least 5 reasons to buy Navistar currently:
1. Carl Icahn increased his stake in the company to 11.8%
According to a Form 4 Sec filing on June 8th, Carl Icahn purchased 883,200 shares of Navistar. Icahn currently owns 8,134,626 shares of Navistar. The company has 68.7 million shares outstanding, which makes Carl a 11.8% owner of the company.
2. The company is aiming to become a $20 billion business with $1.8 billion of segment profit
During the earnings call on June 7th, the company specified its goal:
If you'll look at our strategic plan here, it's to be a $20 billion business with $1.8 billion of segment profit and that's at about 350,000 units. It's also to be profitable at all points in the cycle, take the cyclicality out and we do that with growth. As part of that strategy, a cornerstone of that strategy in the early front is to have our own engine in the Class 8 marketplace. Competitors have done this as well. They've chosen to do it over many, many years and they're still doing it. We thought the best process for us is to do it at once and we think the hard part of that is over. And our share has held, it needs to get better, but it has held over the last several quarters now.
3. Full year 2012 EPS guidance of $5 - $8 per share
During the first quarter earnings call, the company gave the following guidance:
I think if we take the second half as segment profits that we've targeted here, translate that to a full year, you'll get a $15 billion to $16 billion business at 300,000; segment of $1.2 billion to $1.4 billion; and EPS of somewhere $5 to $8 a share.
4. Seasonalities favor the second half of the year
From the first quarter earnings call:
But it's important to remember that our... that for our core businesses in Truck and buses, the second half of the year is historically stronger than the first half. We expect this trend to continue for 2012. This phenomenon is also true in our export business and our South American engine business. There is a certain amount of what we call seasonality of demand that favors the second half.
5. Competitors are more expensive
Stone Fox Capital wrote on March 12th:
Below, Figure 1 highlights the valuations of some competitors in the general heavy-duty truck and engine sector. Cummins (NYSE:CMI) is the worldwide leading engine producer while Oshkosh (NYSE:OSK) and PACCAR (NASDAQ:PCAR) manufacture heavy-duty trucks.

Just using basic measures like Price to Sales and Price to Earnings, Navistar is the cheapest in the group. Unfortunately the company has earned that distinction based on numerous earning warnings.
I chose to update the chart using Finviz figures:
| | | |
| --- | --- | --- |
| Company | 2012 Price/Sales | 2012 Price/Earnings |
| Navistar | 0.14 | 4.75 |
| Cummins | 1.0 | 8.09 |
| Oshkosh | 0.24 | 9.01 |
| PACCAR | 0.77 | 9.63 |
Conclusion
With the recent insider transactions and the latest earnings call, I would recommend buying the stock. The stock is currently at its cheapest since late 2008.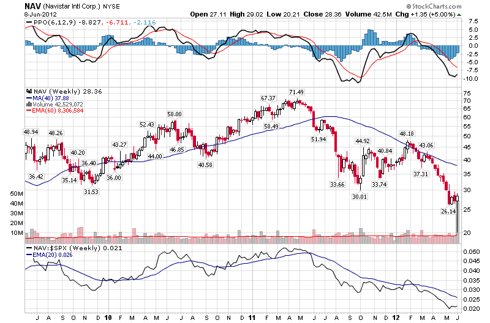 Disclosure: I have no positions in any stocks mentioned, but may initiate a long position in NAV over the next 72 hours.