5 companies make up 59% of the Titanium Dioxide (TiO2) market. On June 15, 2012 a merger involving the 5th largest TiO2 producer, Tronox (NYSE:TROX), and Exxaro Sands, a primary producer of titanium ore feedstock, will close. This merger will provide a special onetime dividend of $12.5 (7.96% based on a current price of $157) and 1 class A share of the new publicly traded company for each share of TROX.PK held. TROX is currently a pink sheet. The merger transaction will be covered in more detail below.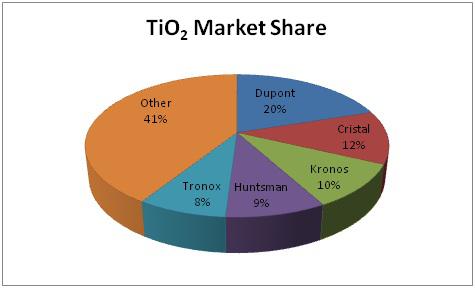 Source: Kronos 2011 10-K
According to the Kronos(NYSE:KRO) 10-K, TiO2 is the largest commercially used whitening pigment, and is a crucial component of everyday applications, such as coatings, plastics, paper, inks, food, and cosmetics. Tronox will list as a specialty chemical company. Its closest peers are Kronos and Huntsman(NYSE:HUN). Dupont(NYSE:DD) is a large diversified chemical company and does not exhibit the same characteristics. Cristal, a Saudi company, is not listed on US exchanges.
| | | |
| --- | --- | --- |
| | Current P/E | Forward P/E |
| DD | 13.27 | 10.53 |
| KRO | 4.89 | 5.65 |
| HUN | 8.89 | 5.64 |
| TROX | 7.59 | 6.04 |
Source: Yahoo Finance, Finviz.com
The following charts are relative measures, which will highlight how HUN and KRO, both specialty chemical companies, compare with the specialty chemicals industry. The more leftward and the more upward a ticker is, the better.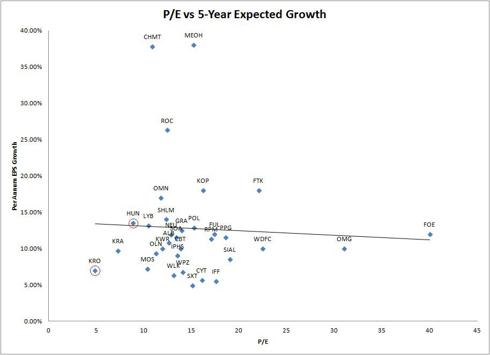 Click to enlarge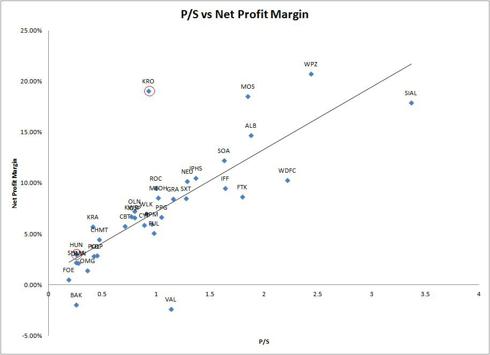 Click to enlarge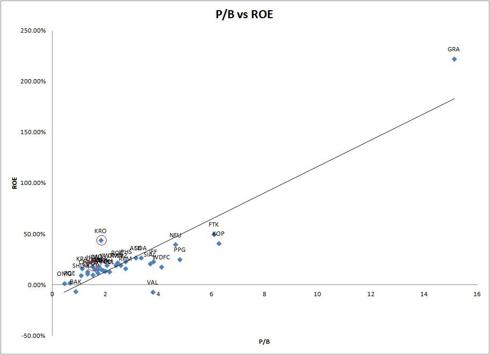 Click to enlarge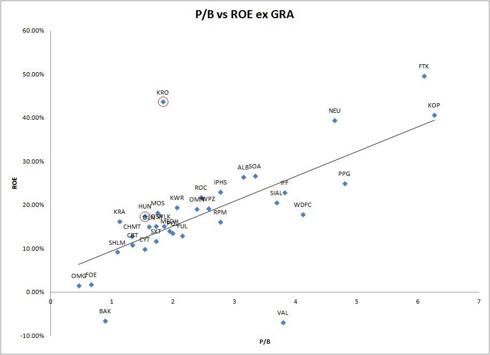 Click to enlarge
Source: Data from Finviz.com
KRO is a massive outlier in all of the charts, and shows up as the cheapest in an absolute sense when looking at P/E vs expected growth. Huntsman is in the right space relative to peers, but does not particularly stand out.
This generally means 1 of 2 things. KRO and HUN are a relative deal, or the numbers are skewed because of where the two companies are in the business cycle. A brief excerpt from KRO's 10-K provides more detail:
TiO2 is considered a quality of life product. Demand for TiO2, has generally been driven by worldwide gross domestic product and has generally increased with rising standards of living in various regions of the world. According to industry estimates, TiO2 consumption had grown at a compound annual growth rate of approximately 3.3% since 1990. Per capita consumption of TiO2 in the United States and Western Europe far exceeds that in other areas of the world, and these regions are expected to continue to be the largest consumers of TiO2. We believe that North America and Western Europe currently account for approximately 16% and 22% of global TiO2 consumption, respectively. Markets for TiO2 are increasing in South America, Eastern Europe, the Far East and China and we believe these are significant markets that will continue to grow as economies in these regions continue to develop and quality-of-life products, including TiO2, experience greater demand.

In recent years, global production capacity for TiO2 has modestly increased primarily due to debottlenecking existing production facilities. However, during 2008 and 2009, several TiO2 manufactures permanently reduced capacity at high operating cost facilities in Europe, North America and China, in part in connection with environmental-related issues. Decreased capacity, along with the decline in customer inventories which occurred in the first half of 2009, led to industry-wide tightness in TiO2 inventories. As a result of these factors, TiO2 selling prices began to increase in the second half of 2009 and continued to increase throughout 2010 and 2011. Further increases in TiO2 selling prices are expected to be implemented in 2012.
Dupont currently has plans to expand production by 350,000 metric tons over the next 3 years. This equates to approximately 6.4% of current global capacity. There are no other plans I am aware of to expand production. New facilities typically require 3-5 years to construct and become operational.
Unfortunately, this news indicates peak numbers in the charts. Fortunately, it appears that capacity will be constrained for at least the next 3-5 years providing an attractive environment for KRO, TROX, and the other TiO2 producers.
Tronox Deal:
The full press release is available here, and the full transaction details here. Tronox declared chapter 11 bankruptcy in early 2009. Exxaro Mineral Sands, had an option to buy a portion of Tronox. The two companies decided a merger would be more beneficial.
Why this is a good deal for Tronox:
Security of Titanium Feedstock Supply
The current market for titanium feedstock is very tight. Titanium feedstock supply deficits are expected to grow due to the depletion of legacy titanium ore bodies and lack of investment, as well as high risk and long lead time (typically five to seven years) in starting new projects. Raw material security is very important for TiO2 producers in current economic conditions and will be even more important when economic conditions improve. [The transaction] should provide [TROX] with increased assurance that it will have the supply of feedstock necessary to operate [its operations].
Additionally, we could see a situation similar to what happened with the rare earths and Molycorp(MCP) when supplies were constrained.
Solid Platform for Future Growth in Zircon Market
The global demand for zircon continues to stay significantly higher than supply, and inventory throughout the supply chain is at historically low levels. Strong long-term demand for zircon is expected as a result of widespread urbanization, especially in developing economies such as China. Increased TiO2 capacity should allow [TROX] to grow its zircon production and become a more prominent player in the zircon market.
Flexible Capital Structure and Significant Free Cash Flow Generation
[TROX] is not expecting to incur any incremental debt in connection with the Transaction because [Exxaro] will be contributed on a debt-free basis. ...The combination of limited incremental debt and increased business size, scale and free cash flow creates significant financial flexibility for [TROX] to finance future activities from any combination of internal free cash flow and additional capital from debt and equity capital markets. The expected future cash flow is expected to allow [TROX] to service debt and give it additional financial flexibility to pay dividends consistent with peer companies, to return additional cash to shareholders through share repurchases or invest in its business
Preserve Existing Net Operating Losses and Other Tax Attributes
For each share of TROX pink sheet you buy, you will get 12.50 in cash and 1 Class A share representing 68-71.5% of the new entity.
Exxaro Sands is a subsidiary of Exxaro Resources an $8.8 billion company. Sands accounts for 31% of Resources revenue, and while it is not a perfect measure you could roughly value Sands at $2.728 B.TROX has a market cap of $2.37 B. The .92 multiple is to account for the cash dispersal pre-merger.
Another way of thinking about this, is you are getting $12.50 + 0.68($2.728 B +$2.37(0.92) B)/share count = 12.50 + $3.34 B/share count = $12.50 + $3.34 B/15.1 M = $12.50 + $229 = $221/share
TROX is currently trading at $157 on the Pink Sheets, representing a 40% upside. Other considerations, the value of Exxaro Sands is extremely rough, adjust it down as you see fit. Existing shareholders may sell a large number of shares once they become publicly traded. Institutions and other investors may be more attracted to TROX once it becomes publicly traded and due to its increased size. Additionally, there will be a vote once the new company is formed concerning a $25 special dividend. I view this as quite likely to pass.
Please read the full regulatory statement and perform your own due diligence before making any investment decisions.
Disclosure: I have no positions in any stocks mentioned, but may initiate a long position in TROX over the next 72 hours.