Loews Corporation (NYSE:L) could arguably be compared to Berkshire Hathaway (NYSE:BRK.A), since both have a heavy focus on insurance, combined with ownership of other businesses. It's a chronic value candidate, and typically trades at a discount to a sum of the parts valuation. Given the undervaluation, together with a history of buybacks, long-term value creation is predictable, although not spectacular. Desultory price action makes it a test of investor patience.
This article presents a brief overview, a sum of the parts valuation, a discussion of capital deployment, and some thinking about strategy and tactics.
Overview (from 10-K)
We are a holding company. Our subsidiaries are engaged in the following lines of business:

commercial property and casualty insurance (CNA Financial Corporation, a 90% owned subsidiary)(NYSE:CNA);
operation of offshore oil and gas drilling rigs (Diamond Offshore Drilling, Inc., a 50.4% owned subsidiary)(NYSE:DO);
exploration, production and marketing of natural gas and oil (including condensate and natural gas liquids), (HighMount Exploration & Production LLC, a wholly owned subsidiary);
interstate transportation and storage of natural gas (Boardwalk Pipeline Partners, LP, a 61% owned subsidiary)(NYSE:BWP); and
operation of hotels (Loews Hotels Holding Corporation, a wholly owned subsidiary).
Sum of the Parts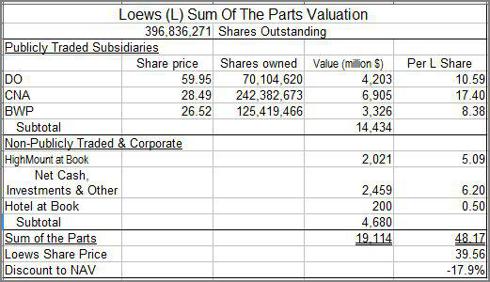 DO, CNA and BWP as publicly traded entities are shown at closing prices on 6/7/2012. The other values were developed from the Consolidating Balance Sheet information in the most recent 10-Q.
As another way of looking at it, consensus target prices could be substituted for the publicly traded subsidiaries. Using values from FinViz, and my own estimate for CNA, a target value of $56 emerges.
Indirect ownership is not as good as direct. Because of this, a discount of 15% from NAV makes sense to me. If the publicly traded subsidiaries reach consensus targets, $56 X .85 = $48. Allowing two years to reach this target, from a price in the $39 area, returns would be 10.9% annualized.
Based on market action, I question whether the stock will get above $45 any time soon.
Buybacks

2011 buybacks amounted to 4.5% of shares outstanding, and were completed at prices less than the sum of the parts valuation determined above.
Fourth quarter buyback activity slowed down. Management doesn't discuss their intentions for future buybacks, although the company has done a lot of them over the years. There were no buybacks during Q1 2012.
Capital Deployment
CEO James Tisch is enthusiastic about energy, to include natural gas, in the long term. However, HighMount, an exploration and production company owning conventional natural gas assets, was acquired before the advent of fracking drove prices down.
HighMount is redirecting its energies toward oil and wet gas, which will in all likelihood require capital contributions from its parent.
Natural gas will become a large part of the energy picture in the US, since fracking provides a large, low cost supply. Transportation, meaning pipelines, should be a good investment. Boardwalk Partners can be expected to receive capital from the parent, to pursue these opportunities.
Publicly Traded Subsidiaries
CNA - A P&C insurance company, in the process of a turnaround. I wrote it up favorably in February here on Seeking Alpha, suggesting a target price of $38. It currently trades in the $28 area, with a P/E of 11.9.
DO - an offshore driller. Brett Jensen wrote it up favorably back in May, citing a number of reasons to be optimistic about the name. Over the long term increasing energy demand and diminishing supply will create strong demand for DO's drillships. With shares in the $59 area, FinViz cites a target of $70.10.
BWP - owns and operates 3 natural gas pipelines. Ron Hiram has done a detailed analysis, and suggests that other opportunities in the industry may be more favorable. The stock trades in the $27 area, with a target price of $29.5, according to FinViz.
Strategy and Tactics
Loews presents the attraction of an easily computed and verified value proposition, but somehow the expected share price appreciation is slow to materialize. CNA has a beta of 1.9, high for a P&C insurer. By way of comparison, Chubb (NYSE:CB) has a beta of 0.5 and Travelers (NYSE:TRV) checks in at 0.7. CNA's fixed income assets are less than pristine, and require a strong economy to deliver full value.
In any event, because CNA represents a large portion of its value, Loews has a beta of 1.2, making it more suitable for an optimistic market. In addition, the energy holdings make it sensitive to the economic outlook.
I've been long since February last year, with disappointing results. I recently sold September 40 covered calls, an approach that will lock in a trivial loss if called away.