Every investor knows their risk tolerance when buying dividend stocks. I have never met an investor who did not want a high dividend check each month. Hedging allows investors to obtain higher yields due to a protective put. Ensuring adequate insurance is in place requires knowledge and action. An investor can obtain a net Annaly (NYSE:NLY) 13.00% dividend yield if they are willing to hedge their position.

Annaly is an agency mortgage real estate investment trust (mREIT). Annaly borrows money via short term funding and buys longer duration Government Sponsored Entity (NYSE:GSE) mortgage backed securities (MBS). This gross yield difference is then multiplied by a leverage ranging from 5.4x to 9x.
Attractive Entry Point
Annaly has a March 31st book value per share of $16.18. The stock, as of March 31st, was levered by 5.8x. This is a low leverage multiple for the agency mREIT space. Based upon a June 8th closing price per share of $16.76, the stock is trading at a 3.5% premium to book value per share.
Annaly paid 55 cents per share for the 1st quarter of 2012. This equates to an annual 13.2% if the payout remains the same. Annaly could increase the dividend if they chose to increase the leverage rate up from historical lows of 5.4x.
Hedging
There are two types of hedging in this long Annaly example. Annaly personnel hedge to decrease risk against interest rate hikes, policy risk, and pre payment risk. If the economy continues to struggle, Bernanke has stated Quantitative Easing 3 (QE3) is still on the table. The 7 year through 30 year Treasury Rate yields have increased since early June.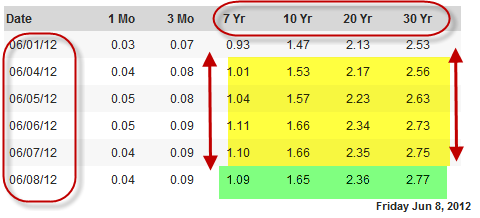 Annaly uses derivatives, swaps, and any sort of tools to reduce risk. Because rates are historically low, the key tool to hedge against is interest rates rising. The gross yield spread minus Annaly's internal hedging costs result in the net yield margin.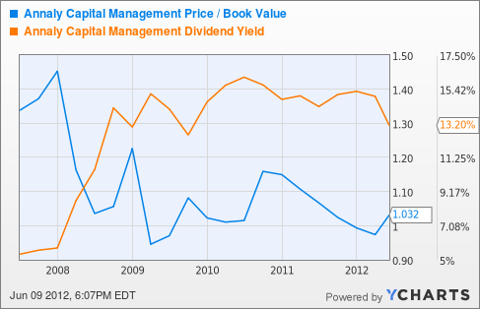 NLY Price / Book Value data by YCharts
Investor Hedging
For simplicity, let's assume an investor wants to buy 100 shares of Annaly for $1,676.00. The investor knows he should receive $220 in annual dividends. This amounts to a 13.2% annual interest rate.
I propose the investor implement their unique hedging program. This process will be a collar option and long 100 shares of Annaly.
1. Buy 100 shares of Annaly.
The below order chart shows the total cost is $1,676.00.

2. Establish a Collar Option.
Buy a $13 October Protective Put and sell a $17 October Covered Call. This is a Collar Option with a $2 debit outlay.

Experienced Management
Michael A. J. Farrel continues to run Annaly as its Chief Executive Officer. The CEO and his team determine what leverage is used and specifically what GSE MBS are purchased for the mREIT's returns.
Bernanke's Focus Upon Low Rates
Operation Twist and Quantitative Easing both promote the issue of low Treasury Rates. Annaly, as an agency mREIT, does not own Treasury securities. Annaly does own GSE MBS, which closely track the Treasury Bond yields. Sallie Mae, Freddie Mac, Fannie Mae are all examples of agency MBS.
Interest rates should remain low as long as housing prices remain depressed, the job market remains suppressed, and austerity impacts the global economy.
Action
I chose Annaly because they are the largest market cap agency mREIT. The options are the most liquid. For a $2 collar option, you can own a $13 Annaly protective put and sell a $17 covered call. This should be a miniscule outlay for a hedge. The total annual return should amount to a 13.00% annual return after implementing the covered call. This is due to Annaly common remaining between a $13.00 and $17.00 range. The dividends will provide the 13% dividend yield.
Disclosure: I have no positions in any stocks mentioned, and no plans to initiate any positions within the next 72 hours.