The market reacted in manic fashion to Guidewire's fiscal Q3 financial results. Initial jubilation sent GWRE up over 10% at market open, but that was quickly displaced with selling that saw the stock give up all its early gains, and then some.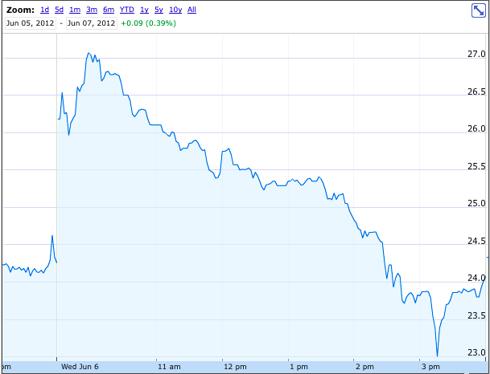 "Yes, yes…NO!" - Mr. Market reads through ALL the bullets in Guidewire's press release. (Chart via Google Finance)
With Guidewire beating expectations and raising future guidance in the earnings announcement, I would bucket this as indigestion of good news, which is often a foreboding sign for the asset in question. Now that I've had a chance to listen to the quarterly conference call and read the 10-Q, let's dive into the details to see what happened.
I suspect GWRE rallied on the lead that revenue increased 28% over the same quarter last year, and gave back those gains on the next bullet point, which revealed that services revenue drove the outperformance (up 31%, versus 22% for license revenue growth). Quarter-over-quarter license growth was only nominal, so investors are probably concerned that Guidewire license sales are already bumping up towards the top of the S-curve.
Please recall our Guidewire is a buy below $25, where we assumed a 25% growth rate for the next five or six years. CEO Marcus Ryu mentioned on the call - for the first time I'm aware of since the IPO - that he believes Guidewire can grow license revenue at 20% or more for the foreseeable future. As a GWRE shareholder, I'll sign up for this. Ryu added that he expects one-quarter to one-third of new business will come from existing customers via upsells.
Our (and management's) favorite metric, four-quarter recurring revenue increased 30% over the same period twelve month's prior to $97.7 million. This really is THE metric for a software company that collects recurring payments, as they can basically send everyone and still collect this money (I'm exaggerating, they may need two engineers to sustain this - one to handle support, and one to cash the incoming checks).
For the long term things seem to be all right - as mentioned quarter-over-quarter license growth was low, but when selling enterprise software you're going to see variation from quarter-to-quarter. Deals close when they close, and these are long sales cycles.
If you're an investor in the classic sense of the term, I think Guidewire is a buy below $25, as the 20% growth story appears intact.
In the short term, though, there are a lot of overhangs that could send GWRE even lower. The two-month chart looks awful - it's a textbook series of lower highs and lower lows. And the employee lock-up period ends in September, which could flood the market with GWRE shares.
If GWRE does continue to sell off into and through the lock-up expiration, we could see a sweet buying opportunity for everyone, investors and traders alike.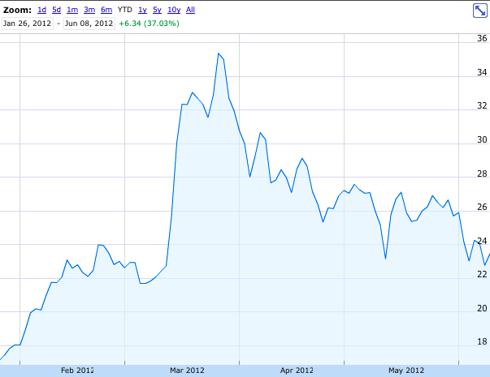 Guidewire's downtrend - about to test support at $22.
(via Google Finance)
Disclosure: I am long GWRE.