Coach (NYSE:COH) stock has declined 19.2% over the last 3 months. At the current price of $64.0, which is around the mid-point of its 52-week range between $45.7 and $79.7, the stock is trading at 18.2x the current fiscal year estimated EPS and 10.9x the LTM EBITDA. I believe a good entry point for this growth stock has emerged and thus a buy should be under your considerations for the following reasons:
The recent negative price action is primarily owing to the risk-off sentiment driven by the European fiscal problem, however, COH has very limited exposure to Europe as it generates most of its revenues from the US, Japan, Canada, Hong Kong, and mainland China, and the firm has been growing nicely in those regions.
Taking the growth prospects into consideration, the stock is trading at a 3-year expected PEG of 1.15x. I believe a PEG slightly over 1.0x for COH is very much justified by the firm's established brand equity, solid international growth prospects, and excellent financial performance.
In my past article, I have performed a comparable analysis for major global luxury retailers. COH has demonstrated superior growth, profitability, and liquidity relative to its peers. I believe a valuation premium of 10-20% is warranted. Based on that I have run the following relative valuation, and the model yields a fair stock value of $72.82, representing a 14% upside. It appears that a 0% premium has been factored in the current market price as with a 0% valuation premium, the model yields a fair value of $63.58, which is very close to the current price.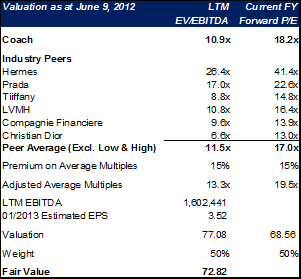 COH's debt to total capitalization ratio of 1.2% is significantly below its peer average and its LTM FCF margin of 21.4% is the highest among the group.
COH has consistently beaten both revenue and EPS estimates over the past 8 quarters.
According to below, the current and next fiscal year EPS estimates are revised upwards over the past 90 days.

Sell-side analysts are very bullish on the stock. Of the 29 analyst ratings for the company, there are 9 strong buys, 11 buys, 8 holds, and 1 underperform. The mean target price is $82.1, indicating a decent 28% upside potential. Barclays in May reiterated their overweight rating for the stock and raised the target price from $82 to $90. Argus in April initiated their coverage on the stock with a $90 target price.
COH has a dividend yield of 1.93%.
Valuation table is created by author, EPS table is sourced from Yahoo Finance, and financial data is sourced from company 10-Q, 10-K, press release, Yahoo Finance, YCharts, Wall Street Journal, Thomson One, Bloomberg and Morningstar.
Disclosure: I am long COH.