Chicago Bridge and Iron (NYSE:CBI) engages in engineering, construction and procurement serving petrochemichal, oil and gas and water industries among others. Its pipeline includes hydrocarbon processing plants, liquefied natural gas terminals and peak shaving plants, offshore structures, pipelines, bulk liquid and other facilities. Of course, given accelerated growth in developing countries such as China and India, CBI is riding the rising tide of global infrastructure.
CBI fundamentals, especially those belonging to the last 3-5 years, are just amazing: 13.44% average EPS growth for the last 5 years, which spikes to 42.52% for the last 3 years and reaches an astonishing 632.1% last year. A similar pattern is seen in revenue growth, although not as large as EPS growth, with income growing an average 25.66% the last 5 years, and a 38.4% advance this year.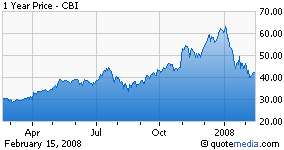 The continued and sustained growth of the aforementioned countries demands an improvement of those countries' capital stock in order to allow new and existing industries to expand their output and business. For example, given the spectacular increase in industrial output registered the last several years, energy demand has risen exponentially, positioning China as the world's second biggest energy consumer behind the US. That means that buildings related to gas and oil production and transportation, along with other infrastructure works including highways and bridges, must be constructed. So, given this growing demand for major infrastructure developments, companies like CBI stand to benefit from this upward cycle in emerging nations.
But growth is not only registered in developing markets; recently, CBI was awarded $285 million contract for a U.S. refinery-expansion project. The oil industry is expanding all over the world. As shown by the stats above regarding EPS growth, CBI is a leader in a hot and rising industry, with no perspective of slowing its rapid pace, as even in the event of a recession in the US, the demand for infrastructure should not stop, because the industries supplied by CBI, although not absolutely immune to a slowdown in the American economy, will withstand it better than almost any other. Oil production is dwindling, and an eventual downturn in major economies will not affect the fact that demand outpaces supply. Besides, the worst prediction for Chinese and Indian growth calls for no less than 9% for 2008, which is an outstanding number. You have to get back to the 50s to see that kind of growth in the US. The point is, big infrastructure developments will not stall even with a US recession.
From its peak of 63.5 in January 3rd, CBI has lost 35%. Now it trades in a range of 40-42. It seems investors are questioning whether the world can follow its rising road with the biggest player ailing. The decoupling theory, which states the world can grow without its former locomotive, is not considered valid by investors, as seen by the plunge in CBI's shares. All infrastructure stocks have suffered the same fate, with Foster Wheeler (FWLT), and Global Industries (NASDAQ:GLBL) plummeting. CBI had the worst performance, despite having the greater fundamentals and the best outlook. Nevertheless, I believe that this is a golden opportunity for investors to hold a stock that can double a year from now, while fears of a slowdown in infrastructure spending in the world wane, and eventually disappear. With an expected Year over Year revenue growth of 38%, and an EPS YOY increase of 35%, that, with a current P/E ratio of 25, leads to a PEG ratio of less than 1. That is really incredible for a company growing at around 35%.
So, for these reasons, I think CBI is one of the best opportunities this market route has allowed us to take advantage of. Solid fundamentals, a shiny outlook and compelling valuation is what defines a great stock.
Disclosure: Author has a long position in CBI