On May 17, the TSA announced final implementation of Bush-era legislature that will require 100% of global air cargo entering the United States after December 3 of this year to be security screened. With increased government crackdown, some international and domestic shipping companies may be left scrambling to acquire necessary technology for efficient explosives, narcotics, and even human cargo screening. Although many international partners have been preparing for legislation to take effect, the private and public infrastructure is not yet in place to screen large amounts of international freight.
Screening-specific Safety, Security & Defense (SS&D) companies are poised to capture significant portions of the market with new, innovative offerings and current products already implemented by U.S. and foreign security branches.
The TSA's announcement is pertinent to Implant Sciences (IMSC.PK) which makes its major domestic debut with their explosive and narcotics trace detection systems later this year; their recent investor conference call points towards a likely approval by the TSA for implementation of products in August. With TSL testing finalization and subsequently TSA approval, Implant's proprietary product lines improve upon current competition's offerings (ease of use; low cost of ownership; safety through non-radioactivity). Implant Sciences' products are widely used and gaining ground internationally but TSA approval grants unprecedented domestic involvement and makes this young company an obvious acquisition target. GE Securities purchased former ETD provider Ion Track Instruments (brainchild of IMSC COO Bill McGann) in 2002 for $190 million.
Undervalued American Science and Engineering (NASDAQ:ASEI) builds large-scale X-Ray and radioactive threat detection devices for use in freight and vehicle screening. U.S. Border Protection, the Department of Homeland Security, and U.S. Customs implement American Science's hardware in security screening checkpoints domestically; foreign entities utilize abroad. ASEI saw a sharp sell-off with the revised defense budget and lower-than expected quarterly earnings, however, with a Debt/Equity of 0.02 and a history of growing profit, ASEI is worth a look before it rebounds on increased sales.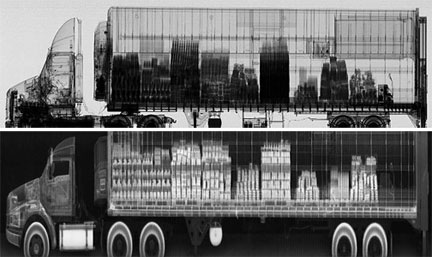 While Analogic Corporation (NASDAQ:ALOG) doesn't directly sell large-scale security screening hardware (only 13% of net revenue comes from security, the rest related to healthcare), larger original equipment manufacturers like Smith's Detection (OTCPK:SMGZY) use their underlying technology for their own security screening products (external engineering agreements accounted for $16.4M in Analogic's revenue). Smiths entered into a funding agreement with Analogic to develop advanced imaging subsystems for use in Smith's next-gen explosive trace detectors. A similar large-scale player in the security screening business, Rapiscan Systems, a subsidiary of OSI Systems (NASDAQ:OSIS) has an established history of income growth and cargo-scale systems available for air screening.
The TSA's announcement will undoubtedly prompt interest in screening SS&D as the deadline for air cargo screening looms.
Disclosure: I am long OTCPK:SMGZY, IMSC.PK.